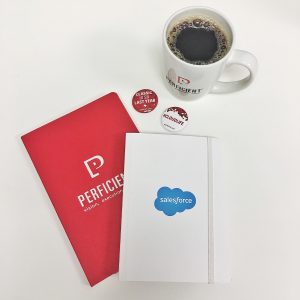 Perficient is the preferred partner for brands thinking about implementing Salesforce for several reasons.
We have an incredible wealth of knowledge, a passionately dedicated team, and the history and experience needed to be the true enterprise innovation leader.
But keeping up with all the awesome things we're doing can be hard!
To make it easy, we outlined a few key steps our fans should take to stay connected with the latest and greatest news from our team.
Enjoy an Abundance of Thought Leadership for Salesforce, CRM, and Cloud
Dive into our Salesforce thought leadership guides
Our experts go in-depth on different Salesforce topics and share ways Salesforce can improve your business. Get the guides
Watch our Salesforce webinars
From implementing Financial Services Cloud to creating content for a customer community and everything in between, Perficient's webinars should not be missed. View Perficient's webinars
Peruse all our Salesforce blogs
We have fresh content going out every week to keep you updated on all the latest and greatest with everything Salesforce. See Perficient's Salesforce blogs
Get blogs delivered to you
Make sure to not miss out on any of the Salesforce fun that Perficient is having! Sign up for our weekly Salesforce blog digest
Sign up for other Perficient blog digests
Our expertise ranges from strategic and thought-provoking to deeply technical and granular on a variety of topics and industries. You are sure to find something of interest. See other Perficient blogs
Watch & Learn, Trailblazers
See all the Perficient YouTube videos and check out the Salesforce YouTube playlist.
Innovating Organizations One Industry at a Time
Delve into our Financial Services industry capabilities
Companies in banking, asset and wealth management, capital markets, and insurance turn to us to help solve their most complex business and technology challenges. See Perficient's Financial Services resources
Examine our Healthcare and Life Sciences industry capabilities
We'll ensure you have integrated, innovative solutions that streamline internal processes and maximize the experience at every consumer touch point. See Perficient's Healthcare resources and Life Sciences resources
Explore all Perficient's industry capabilities
From manufacturing to high-tech, we have the players that are shaping the game. Find your industry here
See Our Experts in Action
See our Salesforce client work
Companies trust Perficient's experience and aptitude when evaluating their CRM options, with experts dedicated to different technologies. See a sample of our Salesforce work
Dig into Perficient's Management Consulting and Organizational Change Management practices
Uncover insights about productivity, scale, capital spending, labor deployment, logistics, customer preferences, optimal marketing campaigns, product profitability, and other critical levers within your business. See more about Perficient's Management Consulting practice and Perficient's Organizational Change Management practice
Delve into insights from our Chief Strategist
Our Chief Strategists are experts who help our teams flawlessly deliver impactful solutions for the long-term. Meet the Chief Strategists of Perficient
Backed by top-ranked Digital Agency
From strategy to UX design, our digital agency lives up to its 2019 Forrester label of "Top B2B Agency." Learn more about Perficient Digital
Perficient's Culture is Everything
From our Salesforce team and across the whole company, we are dedicated to a set of values that are the foundation of everything we do.
What have we missed? Let us know what you would like to see in the comments below or connect with us online.