Recently, Perficient and Adobe hosted a Women in Digital event at the prestigious Kenwood Country Club in Cincinnati, Ohio during the Kroger Queen City Championship presented by P&G. It was a great day that included brunch and a fireside chat as well as a golf clinic with LPGA player and golf commentator Morgan Pressel.
The event provided female executives from various fields an opportunity to come together and celebrate female empowerment and network with like-minded professionals who share a passion for progress in the digital world.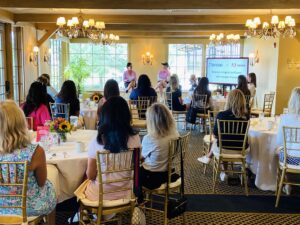 An Inspiring Fireside Chat
One of the event highlights was the fireside chat with Perficient-sponsored Morgan Pressel. Once an LPGA player who broke through barriers in a male-dominated sport, Morgan shared her remarkable journey of transformation. From the greens to the broadcasting studio, she revealed how she conquered challenges, stayed motivated, and used her fame to make a significant impact in the fight against breast cancer. Her story was a testament to the power of determination and the ability to pivot one's career successfully.
The Morgan Pressel Foundation was started to further the fight against cancer, particularly breast cancer. Pay tribute today.
A Private Golf Clinic
Following the fireside chat, attendees had the unique opportunity to take part in an exclusive golf clinic led by Morgan Pressel herself. Whether you were a seasoned golfer or new to the sport, Morgan's expertise was a guiding light on the greens. Her insights and coaching not only improved the participants' golf skills but also inspired confidence. To make this experience even more memorable, each participant received a $100 gift card to the LPGA Pro Shop, a signed photo with Morgan Pressel, and two tickets to the Kroger Queen City Championship Golf Tournament!
Women in Digital: A Hallmark Event Series
This event was more than just a gathering; it was a carefully curated space where female executives in Cincinnati could empower each other, exchange ideas, and foster growth. The intimacy of the event allowed for authentic connections to be made, and the possibilities that emerged were limitless. Attendees seized the opportunity to expand their networks and discovered untapped potential within themselves.
In a world that is constantly evolving digitally, it's essential to have events like this that not only celebrate the achievements of women but also provide a platform for them to thrive further.
We look forward to seeing the impact of these connections in the digital landscape and beyond, as women continue to drive success in the world of business and technology.
Our Next Women in Digital Event
Don't miss our next Women in Digital event on October 10, 2023. Morgan Pressel will moderate this event as well and the panel will include leaders from Adobe, Auto Club Enterprise, and Eaton.
This event is virtual and open to everyone. So share it with a friend and register today! 
We hope to see you there.