Welcome to 2019 where things take an interesting turn, or, materialize as predicated for so long. In a data-driven environment, it is no surprise that this year Information Executives (CIO, CDO, CTO, CAO) focus on the following topics according to IDG, Gartner, CIO, and Forrester:
Trying to figure out ways to increase IT Budget to spend on innovative products and design
Artificial Intelligence particularly Machine Learning, Natural Language Interactions, Chatbots, and in some cases Robots
Data Infrastructure
Cloud Strategy (if not on it, trying to transition ASAP)
Customer Experience (Business Process workflow, Journey Maps, Create and Retain Customers)
Investment in new tech companies with niche offering as a part of their solution suite (Increase Productivity, Efficiency, Reduce Cost of Custom Build)
Next Gen Infrastructure (Wearables, Wifi, IoT, Robots, Security)
The Importance of Data and Personalization
Industry disruptions are constantly happening – no one is denying this fact or even disputing it. We see CXOs – from retail and financial backgrounds – get hired on in healthcare spaces and tasked with digital disruption in Healthcare organizations, and beyond. As a result, Digital Transformation and Data are the two Yin-Yang factors that have been on top of executives' minds going into 2019, understandably so with data poised to become the new currency. For more on data insights and applications, please visit our Data & Analytics blog page.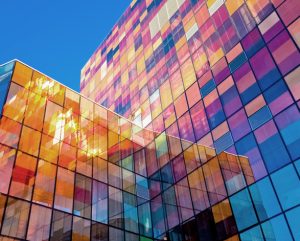 With some guidance, you can craft a data platform that is right for your organization's needs and gets the most return from your data capital.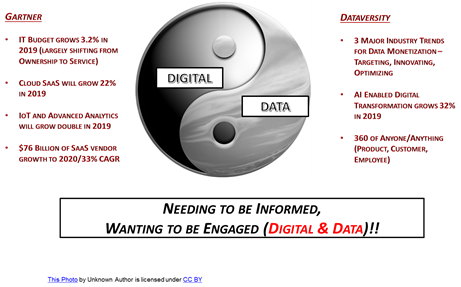 "Data is the 1 st key INGREDIENT to reach personalization."
Guruji Gaur Gopal Das mentions the importance of Customization by stating that "we customize our phone, our house, our clothes, and in fact our pizza, yet we live our lives in "default mode." Let us customize our Customer's life by making "INFORMED" choices so that we can transform their experience. Remember, data is the 1st key INGREDIENT to reach personalization.
What kind of skill sets do Organizations need to excel

in

the Digital Intelligence Age?
Evolution
Long time ago, we figured out where we are in the universe
Then we figured out where we are in the evolutionary chain
After that, we figured out where we are in biology and technology
Now we are figuring out where we are in intelligence
Organizational Hiring: 4 Things needed for Smarter Organizations to meet and beat their goals
Smarter Individuals (Social Intelligence, Social perceptiveness)
Collective and Connected intelligence — Individuals need to work well together (Interpersonal skills, Participate in group setting)
Utopia or Dystopia – Neither. Agile, incremental, small/quick wins
Learn and understand the education system to hire the right skill set
Data
Enterprise Data Competency
Data Platform capabilities
Center for Enablement (with Center of Excellence touches)
AI enabled Solutions and Products
All things considered, the future of Data Intelligence and Personalization begs numerous questions around humanitarian architecture and development. As we all know, the art of making technology and data more human plays a huge part in our personal and professional lives, from experiencing the Amazon Echo to conversing with Call Center Chatbots. For more on humanitarian architecture basics, please check out the following video.