Passion and excitement go a long way when meeting new people, especially potential employers. One way to demonstrate that drive is to show up prepared.
However, preparing for a job interview comes with its own special set of nerves. Most notably, excitement and fear. Excitement, because of the possible opportunity ahead of you and all that brings with it…and then fear that something could go wrong. With this roller coaster of emotions between you and your Perficient interview, taking time to adequately prepare will ease your nerves and make the upcoming conversations more productive, more meaningful, and, let's face it, less stressful.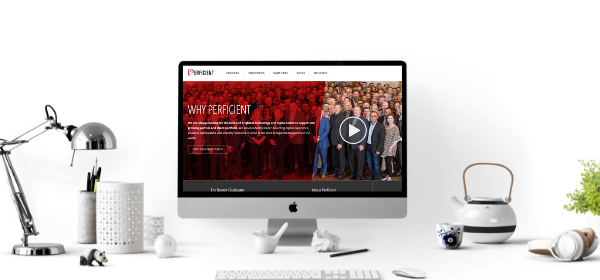 Questions to Avoid
Before knowing what to ask, start by knowing what to NOT ask, which consists of basically anything Google or the Perficient website can tell you.
What kind of clients do you work with?
What kinds of technologies do you work with?
What services do you offer clients?
What industries do you service?
It's not necessary to be an expert on the business on the first call, but knowing the general answers to those questions can help focus the conversation towards a path that showcases how your skillset relates to the role, rather than waste precious time answering general questions.
Having this foundation will allow you to speak more naturally in your interview and you'll also have a better feel for the Life at Perficient, allowing you to maximize your interview time. Here, we share some top ways to get to know Perficient prior to your interview.
1. Understand Who Are Perficient's Clients 
Perficient is a global digital consultancy transforming how the world's leading enterprises and biggest brands connect with customers and grow their businesses. Working with big household-name clients on projects that are changing the future is a big part of the pride we feel working at Perficient.
See Perficient's latest customer success stories here
2. Learn About What Types of Services Perficient Offers
Perficient helps companies optimize their business, reimagine their digital experience, and be the leader of their industry. We do that through several complementary business solutions, creating the perfect recipe for success for each individual client. At Perficient, we firmly believe in collaboration and that our commitment to greatness is best achieved together.
Learn more about services Perficient offers here
3. Become Familiar With What Types of Industries Perficient Works With

Our leading industry expertise is one of the reasons our clients continually choose Perficient. Because we're very familiar with the special requirements and considerations that come along with each of the listed industries, we are better able to service our clients in a more strategic way.
Dig into Perficient's industry expertise
4. Identify Which Technologies Perficient Partners With 
Over the past twenty years, we've developed trusted relationships with digital experience and business optimization leaders. Perficient is proud to partner with the most innovative enterprise, strategic, and emerging technologies in a variety of ways. We strive for the new and thrive on the proven. 
See who Perficient proudly partners with
5. Familiarize Yourself With Who Perficient's Thought Leaders Are
At Perficient, we cultivate a culture that challenges and champions great people. Aside from the wealth of knowledge each employee brings on their own, our Perficient Chief Strategists possess a wide range of expertise and skills to help our teams and client successfully define, develop, and implement business and technical strategies.
Meet the Perficient Chief Strategists
6. Find Out How Perficient "Influences the Influencers"
Aside from our clients and colleagues, we take our thought leadership a step further to "Influence the Influencers," which is the foundation of our knowledge-sharing relationships with trusted, verified analyst firms like Forrester, Gartner, and eMarketer. Armed with knowledge and backed by integrity, we are frequently listed on major reports.
See which reports Perficient was named in
7. Make Sure You Align with Perficient's Values
In all we deliver for our customers, our teams, and our communities, we're guided by a shared sense of purpose and a collective commitment to excellence. We aim to be the very best for our clients, our colleagues, and our shareholders. Our values serve as our guide. We are driven by Innovation, Integrity, Clients, Collaboration, Pride, and our People. They're the essence of who we are and inspire our culture of collaboration and innovation.
Six questions to see if you are a good culture fit
8. How To Learn More About Life at Perficient
One thing about Perficient employees is that everyone feels a sense of pride that comes along with working the best and brightest colleagues on transformative projects. We continually pursue excellence on behalf of our clients, our colleagues, and our shareholders.
Learn more in the Perficient Playbook
Finally, make sure to connect with Perficient on all social media channels, especially LinkedIn. This is where you can stay up-to-date on open roles, company culture, and connect with Perficient employees.
Do you have any tips for us to include? Was there anything that helped you learn more about Perficient as you went through the interview process? Tweet us at @PerficientLife or share them in the comments below.
---
At Perficient, we continually look for ways to champion and challenge our talented workforce with interesting projects for high-profile clients, encourage personal and professional growth through training and mentoring, and celebrate our people-oriented culture and the innovative ways they serve Perficient and the community.
Visit our Careers page to see career opportunities and more!
Go inside Life at Perficient and connect with us on LinkedIn, YouTube, Twitter, and Instagram.