In my last post, we discussed the challenges healthcare provider's face. This post highlights the importance of patient personalization.
Achieving lofty patient experience goals remains an elusive goal for many healthcare organizations. In the portal domain, for example, 63% of patients in a recent Health Affairs study reported they had not used a patient portal in the prior year. Combined with data showing that only about half of the population have patient portal access at all, it is no wonder adoption is low.
Interesting insight is a key reason why adoption is so low. A key influence is certainly the quality and/or interest level in what is available to review. Information categories often appear comprehensive, but with minimal depth of information. Patients look at a lab result, search their condition, are taken to generic medical library content, then leave and don't come back. "Personalization" extends to entering an email address on which to receive communication.
Embracing personalization across the patient's digital journey—from portals to content management to curation of tools for digital care— is an exercise in choreographing three main capabilities.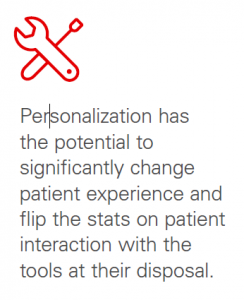 Firstly, insight generated from multiple data sources—each with its own data quality and pathway considerations – identifies unknown and known users alike, targeting messaging and content to engage them. Secondly, with a "target" individual defined, personalization is about curation and positioning of existing services, widely defined, in a meaningful, timely and nonintrusive way. A key aspect of this is the growing focus on the intersection between Content Management System (CMS), CRM and EMR portal capabilities—as things stand, most instances of EMR portals cannot fulfill this role alone.
The final—and possibly the most challenging—aspect of personalization requires a recognition of the provider's role in directing patients to relevant content, experiences, and services outside their direct remit—partnerships of relevance, third-party solution vendors etc. The latter can quickly generate big challenges in governance and needs to be managed carefully.
Done well, personalization has the potential to significantly change patient experience and flip the stats on patient interaction with the tools at their disposal by significantly improving the patient experience through personalized navigation and content.
Questions to Consider
What information assets can you utilize to drive more engaging content in your patient portal?
Where are the limitations in your relationship with your EMR portal provider? How can you partner with them to overcome technical challenges?
What processes and structures do you have in place to ensure a coordinated approach to leveraging external relationships and partnerships in driving personalization?
To learn more about the top five digital health trends for providers, you can click here or download the guide below.