Perficient's Amazon Connect Experience (PACE) solution amplifies the power of Amazon Connect with several added features and managed services. As we continue to develop and customize our software to your needs, we will post blogs with new features and processes we have added, changed, or fixed. To learn more about PACE, visit our dedicated landing page or view our listing on the AWS Marketplace!
Facebook and Instagram Messaging:
PACE now supports Facebook and Instagram as inbound messaging channels! This brand-new integration allows agents to directly handle customer interactions from both Meta platforms for a seamless customer experience. In addition, you can now configure Lex bots to provide your social media customers with self-service options, which will increase customer satisfaction. This integration marks the beginning of our planned expansion of channels for this year. Stay tuned for the upcoming announcements on Email, SMS, WhatsApp, and more!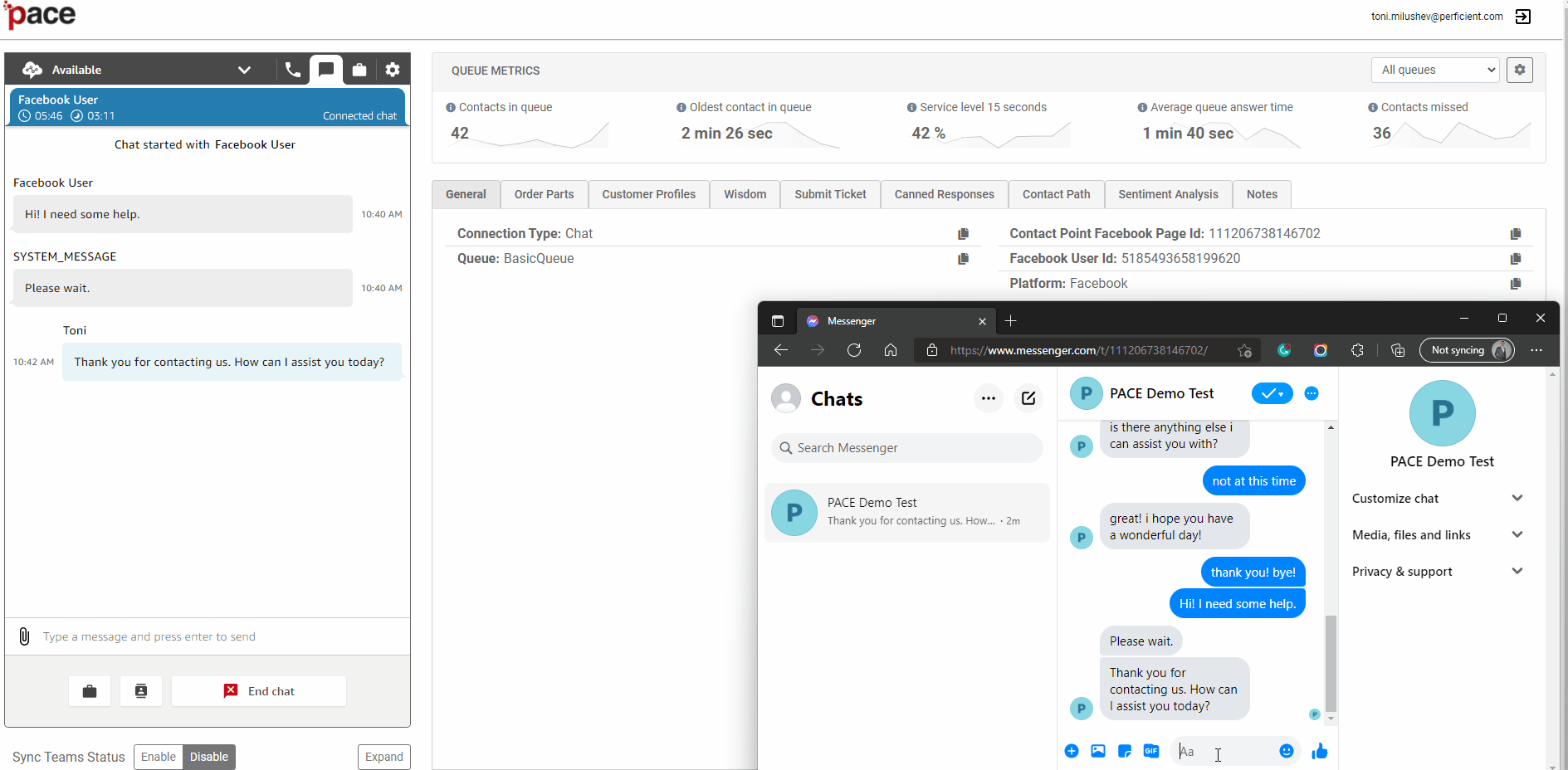 Customizable Dashboards:
Contact center data is a valuable asset that helps contact center managers decide how to improve day-to-day operations and increase customer satisfaction. However, that can be difficult to do with raw data absent of meaningful context. For that reason, we are now enabling managers to build customizable dashboards and view them directly in PACE. The dashboards can be configured with multiple visualizations to provide managers with the insights that matter most in driving change.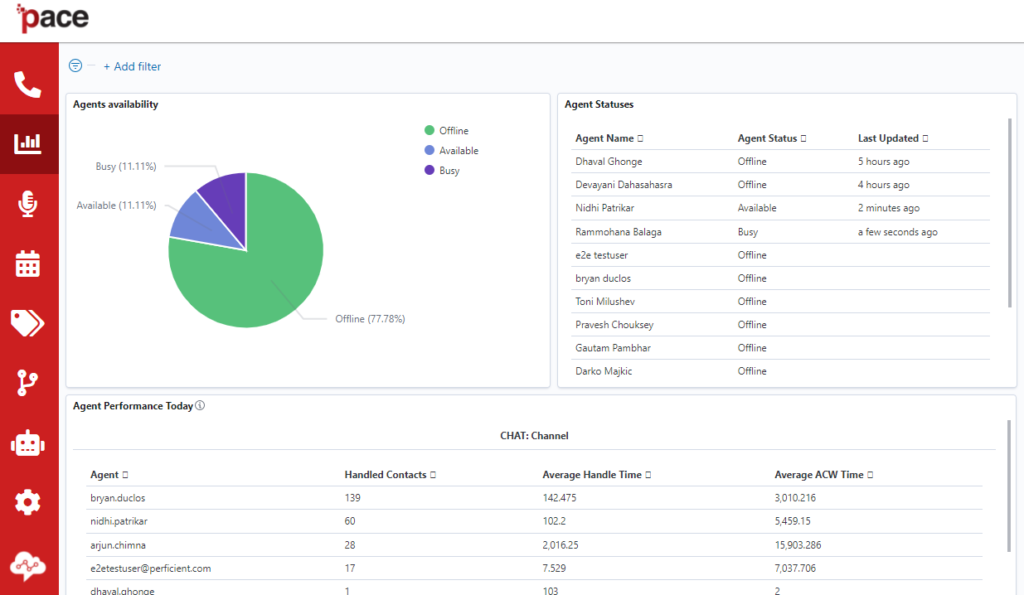 New Web Chat Customizations:
Learn the six most common pitfalls when upgrading your contact center, and how Amazon Connect can help you avoid them.
We are excited to announce that our low-code webchat widget can now be placed anywhere on your pages using the new positioning configurations. In addition, we expanded customization options for the message box, start button, and survey interactions. However, we understand that having so many customization options can become overwhelming. For that reason, we also added the ability to preview the widget before it has been published, and standardized multiple configurations, such as the icon sizes.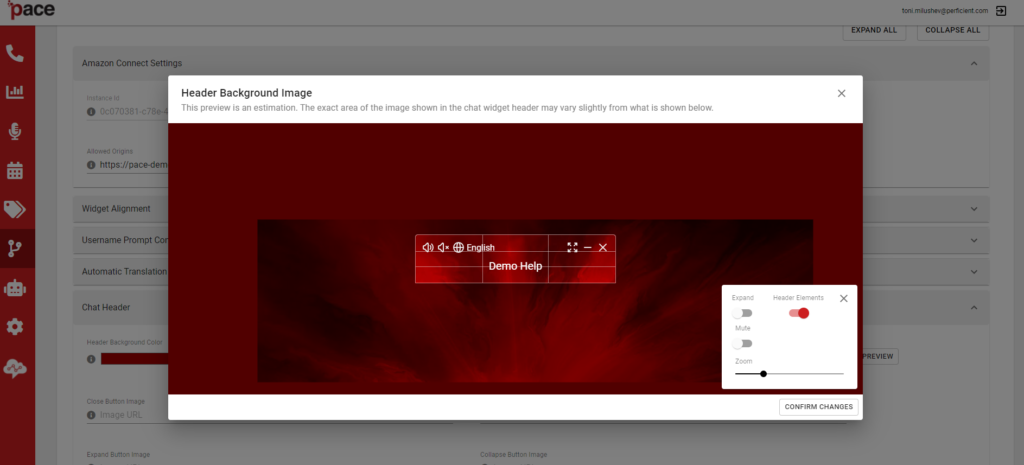 And There is More!
If you find it as difficult as we do to configure Quick Connects for internal agent transfers, then you will appreciate the new "PACE Internal Transfers" contact flow. This new pre-built contact flow allows your agents to transfer calls to each other based on pre-configured extensions. We have also added support for multiple direct inward dialing scenarios that are described in greater detail here: Direct Inward Dialing (DID) for Internal Agent Transfer with Amazon Connect
Changes We've Made:
This latest PACE release also includes multiple changes and optimizations. First, we integrated the Voicemail UI technology, significantly improving performance and stability, and we optimized the caching mechanism on the Closed Message Management page. Next, we reduced the PACE deployment time by over 60% and updated our backend frameworks, such as Log4j, to the latest versions. Finally, we also added pre-built alerts for all PACE contact flows and improved our logging technology.
Below are a few more items we added and improved:
New localization configurations for the Agent Console Dashboard
New validation for Slot Names on the Intents Management page
Improved Canned Responses formatting and disabled Canned Responses for voice interactions
Improved Lex Bot processing of multi-language inputs
Updated Calling Options dropdown on the Call Me Now Widget
Updated breadcrumbs for the Translation Terminology page
Learn More
We're an Amazon Connect Service Delivery Partner with more than 20 years of experience delivering customer engagement solutions. We offer unparalleled contact center experience to accelerate innovation with AWS and Amazon Connect. In addition, our cloud expertise enables us to create powerful solutions while maintaining business agility and flexibility, while our dedicated CRM and ERP practices ensure seamless integrations with legacy applications.
To learn more and get in touch with our customer engagement practice, visit our Customer Engagement webpage!