Perficient's Managing Director and Chief AI Strategist Christine Livingston recently joined IBM's Big Data and Analytics team on its Making Data Simple podcast series. In this episode, AI adoption practices for the enterprise, Christine talks about her approach to AI within the consulting and enterprise industries, along with how she and her team have been managing workloads during COVID-19.
Key Topics from the Show
What's working and what's not working with AI adoption
Natural language processing
Entity extraction
ECM and BPM in AI
In terms of adoption curve, I think we're seeing less skepticism around what some of these technologies are and what they can do. And there's more of a focus around true business value. – Christine Livingston, Managing Director and Chief AI Strategist, Perficient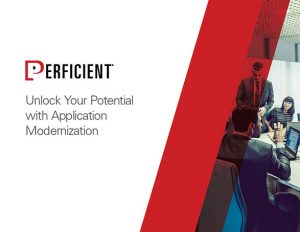 Application modernization is a growing area of focus for enterprises. If you're considering this path to cloud adoption, this guide explores considerations for the best approach – cloud native or legacy migration – and more.
Get This Episode Where You Listen
Apple Podcasts | Google Play Music | Spotify
Connect with Christine
More Perficient + IBM Podcasts
Perficient's Nico Frantzen, Senior Technical Architect for AI solutions, sat down with IBM's cloud team for a podcast to discuss AI solutions and what you can do for successful AI adoption. You can listen to their conversation here.