Vlocity is a San Francisco-based company that delivers industry-specific cloud and mobile software that embed digital, omnichannel processes for customer-centric industries. They are also a Strategic Partner to Salesforce and have many tools developed to help their customers and partners drive results and ensure success.
However, Vlocity's VisualForce community lacked engagement and was difficult to maintain and impossible to scale. How could this support their customers in the way they need it? Well, it couldn't. Enter in Salesforce.
Putting the User Experience First
The secret to a successful community? Putting a premium user experience at the top of the priority list, share UI/UX Solution Architect, Andrew Smith. "My favorite part is seeing the overall final product and having everything flow simply and cleanly."
After Perficient built the new Vlocity community on Salesforce Community Cloud, Google Analytics proved Andrew right by reporting 76 percent of incoming visitors to the community are new, indicating increased activity with easy-to-find answers.
Because the users are new, that shows they don't require a trip back for more help. It's functional because it's easy.
Sleek, Simple, and Functional
The real magic this community provides is the functionality paired with beautiful design. From the moment the user approaches the community, Single Sign-On (SSO), provides fast and easy access.
From there, users don't feel cluttered as they seek answers to their questions because content-heavy layouts now have a modern, clean design.
Federated search across all repositories allows for smarter search results and easy-to-find answers. The self-service this allows customers to Knowledge and Documentation articles contributed to a 50 percent month-over-month increased case deflection.
Built for Collaboration
Moving to the Salesforce platform opened Vlocity up to offer a best-in-class, engaging experience with enhanced collaboration features, which they knew was the key to the success of their community.
The new Salesforce Lightning Community was built with the intention to inspire collaboration with features like Answers, Groups, Leaderboards, Ideas, and Chatter.
And collaboration definitely happened! Within the first two months, sixteen Groups formed and eighteen Ideas were submitted, demonstrating increased adoption and community involvement.
Build a Successful Community with Engaging Content
Want more? Hear what Vlocity's VP of Content says about the new community and how they managed their content through the process in this exclusive interview with Perficient. (Click the image below to view)
Stewart Florsheim shares what his years of experience in the content world taught him about creating, organizing, and sharing the articles and documentation required for the Vlocity community.
Get ready to see how design and content pair together for community success.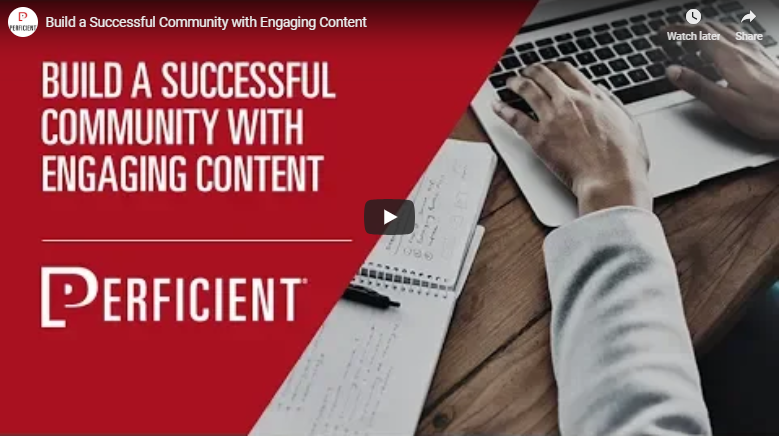 Learn more about Vlocity
Learn more about Perficient's Community Cloud expertise