Marketing Automation: Top

8

Use Cases in Marketing

that will Lift your Business to New Heights
The keywords that catch business leaders' attention in the fast-moving world are Artificial Intelligence (AI) and Robotic Process Automation (RPA). According to Forrester, "The RPA market will grow to $22 billion by 2025".  
Research carried out by Gartner finds that around 80% of finance leaders have implemented or are planning to implement RPA. At the same time, a separate study by Forrester reveals that 57% of workers say RPA reduces manual errors.  
When most people think of marketing, they often think of clever strategic campaigns and compelling ad copies; there is more to the job than just coming up with innovative and memorable marketing strategies. Technology has been especially advantageous to marketing teams since it allows them to avoid the heavy lifting of repetitive tasks and achieve more with less. 
You can automate email campaigns, generate reports, and manage multi-channel communications. Then, create reports, gather statistics, examine your analytics, and see how they align with information from other departments to identify opportunities to improve the efficacy of marketing strategies. 
What is Robotic Process Automation (RPA)?
Straight from Gartner's Glossary, "Robotic process automation (RPA) is a productivity tool that allows a user to configure one or more scripts (which some vendors refer to as "bots") to activate specific keystrokes in an automated fashion. The bots can be used to mimic or emulate selected tasks (transaction steps) within an overall business or IT process. These may include manipulating, passing data to and from different applications, triggering responses, or executing transactions. RPA uses a combination of user interface interaction and descriptor technologies. The scripts can overlay on one or more software applications." 
Let's look at the top 8 RPA use cases in marketing:  
#1 Data management
Capturing data from several touchpoints and in various formats is a major challenge for marketers when managing multiple portfolios of things, and manual processing might fail. 
What happens when data collection is hindered by employee fatigue or boredom? Duplicate (Excel) files and data loss are two examples – since they can be saved in many locations. That's why data management is one of the essential RPA use cases in marketing. 
#2 Automating Bid Adjustments in PPC Campaigns
 You may use RPA to show ads more or less frequently based on customer preferences. RPA can help you schedule the right ads and alter bids based on how well they work, ensuring you receive the most return on your ad expenditure and achieve high marketing ROI. 
In Google Ads, you can schedule ads at specific times and optimise bids to increase when your target audience's purchase intent is highest. For example, plan bigger bids if your conversions are highest on weekends. 
#3 SEO reporting
Although SEO reporting is critical for increasing the exposure of your website and assets, it can be tremendously stressful for the marketing team, especially when reports must be manually prepared, audited, and shared. 
By automating the work of SEO reporting, you can ensure that data is automatically integrated from several sources, reports are prepared appropriately, and faults are identified immediately.  RPA can also enrich reports with personally identifiable information, upload reports to various channels, and continuously audit them for the best outcomes. 
#4 Lead Nurturing
As the buyer decision process gets more complex and time-consuming, RPA enables organisations to identify, and nurture leads without investing significant resources and time. By automating as much of the lead nurturing process as possible, teams can focus their efforts on pivotal interactions that convert prospects into loyal buyers.  
For instance, marketers can use RPA to set criteria for leads worth pursuing, automate lead scoring, and focus targeted efforts toward high-value prospects. They can also use automated campaigns to boost accuracy and quality, target the most relevant audience, and provide them with a hyper-personalised experience that adds more value to your business.  
#5 Pricing and Competition Monitoring
Successful marketers invest critical time and money to determine what their competitors are up to. You can use RPA technologies to monitor what your rivals are doing, from their behaviour, product prices, and marketing strategies and techniques. RPA can help you obtain competition knowledge, fine-tune your marketing strategy, alter prices properly, and boost profitability when competitive behaviour changes. 
#6 Social media monitoring
Nobody can deny the importance of closely monitoring trends and discovering valuable information on social media. It can increase the impact of your business's content and encourage action on relevant real-time events while avoiding missed chances. 
However, the ever-increasing information glut on social media makes these jobs much more difficult for marketers. Robotic process automation in marketing decreases the strain of these tedious procedures while increasing efficiency. 
#7 RPA-Powered Chatbots
Conversational marketing is becoming increasingly crucial in B2B and B2C marketing funnels. Artificial intelligence-based chatbots powered by RPA can be an intriguing combo for converting website visitors. For example, a website visitor may seek specific information to help them decide. Since the RPA Bot is already integrated with multiple back-end systems and databases, it can swiftly retrieve the information requested and make it available to the visitor. 
Deploying RPA bots can give you more time to expand your funnel and engage with your customers. You can focus on nurturing prospects as you automate tedious tasks. 
#8 Facilitating the transition from legacy systems to the latest technologies
Consider manually entering data from a CRM solution (a paradigmatic case of a legacy system) into a newer system. Recognising the amount of time required and the potential for errors has made you sigh and ready to discover a more practical option. That is precisely what RPA solutions are for. Software robots can effortlessly (i.e., quickly and with no business impact) migrate data from old to new systems, allowing you to be confident in the accuracy of the findings. 
What are the Benefits of Marketing Automation?
Here is a small list of what marketing automation can accomplish for you when it's coupled with a proficient team using this powerful technology.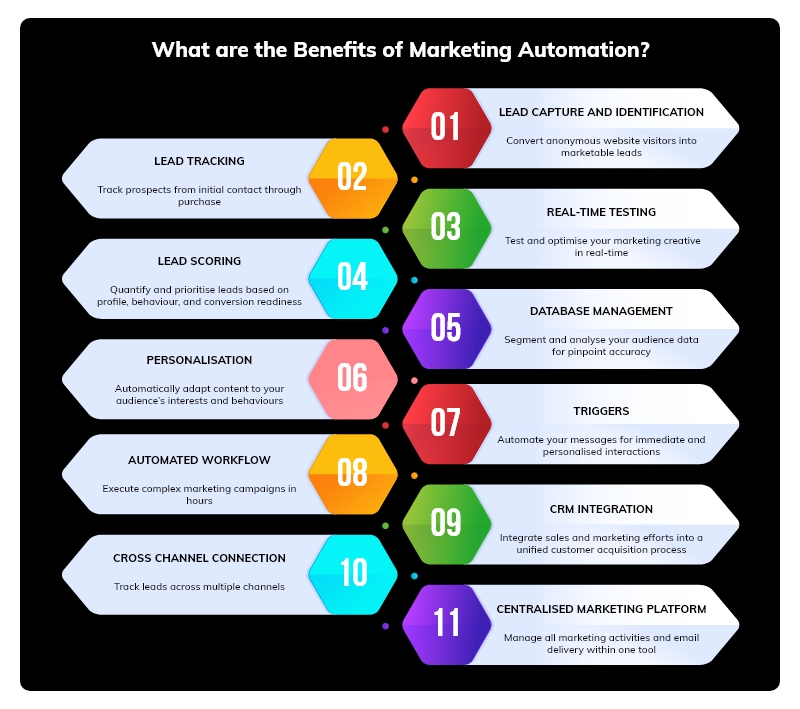 Every business is unique and has its own marketing needs. Automation is also highly adaptable; you can create customised dashboards, email templates, and more.  
Introducing RPA Bots: Bridging the Existing Manual Marketing Gaps
RPA bots can play a significant role in automating reporting processes because they can: 
Collect data from different business resources

 

Generate and send reports based on the collected data

 

Update data in other systems (e.g., CRM) based on reports

 

Paid marketing reporting identifying top-performing channels

 

SEO organic marketing reporting

 

Social media reporting

 
These reports can help teams understand their business better and use data-driven forecasts to make better decisions. 
While the RPA platform provides the ability to build operational dashboards, the strategy business dashboard and the optimisation and predictive analytics dashboards require additional software, knowledge about designing dashboards and the foresight to build a sustainable system. Global brands quickly understand this reality and are taking advantage of RPA bots.  
To know more about how we implemented RPA for our top client and demonstrate the true value of RPA while offering scalability and high-quality consistency of their reports. STAY TUNED FOR PART 2! 
 

Notes and Sources

 
https://www.invespcro.com/blog/marketing-automation/

  

 

https://www.forbes.com/sites/forbesbusinesscouncil/2021/04/12/how-companies-can-effectively-implement-rpa-in-their-marketing-processes/?sh=3720fe0233ce

 

 

https://www.thedrum.com/opinion/2021/05/21/how-use-robotic-process-automation-improve-marketing-efficiency