Amazon Connect now out-of-the-box offers cases in preview. With Cases, you can create or update a customer issue like any other ticketing system. Without integration, agents can collect customer information on the interaction and save it on their Agent Desktop. Switching between multiple applications can often lead to incomplete call information and a loss of time, but this can be minimized with the ability to create a case for each customer issue natively within Amazon Connect. I am very excited about this feature since it can significantly reduce the time to resolution of each contact center inquiry. 
Numerous times I have called the support line for a specific issue, and after a lot of waiting in the queue, I was transferred to different departments where I had to repeat to the agents the reason for my call. I can assure you it was a very frustrating and time-consuming customer experience. Now, similar to other ticketing systems, Amazon Connect Cases allows agents to see the call history and contact information on their Agent Desktop. This, in turn, reduces the customer's time on hold and speeds up the time to resolution. If you want to improve customer experience and modernize your Amazon Connect contact center, continue reading for more exciting information below. 
Enable Amazon Connect Cases
Cases are simple to enable. On the Amazon Connect console, you need to create a domain, and your cases are ready to go. However, Cases cannot work without Customer Profiles as this feature also needs to be enabled for the contact flow associated with Cases. Customer Profiles store customer information such as first and last name, phone number, home address, email address, etc. To successfully link a customer with each specific case, the customer needs to be successfully identified by Customer Profiles. 
The next step you need to complete is providing access to Cases to your security profile in Amazon Connect. 

Once this is done, you will see a new icon named Agent applications with two tabs: Case fields and Case templates.
Case fields are essential information you want your agents to collect during the conversation with a customer, such as a title, summary, status, or any other field relevant to your business.
Learn the six most common pitfalls when upgrading your contact center, and how Amazon Connect can help you avoid them.
With Case templates, you can do the following:
Make certain fields required
Choose fields that are displayed on the agent's screen
Configure the order of the fields
Create a New Case
When the agents answer the incoming contacts, all previous cases get displayed on their screen along with their status. Not only can the agent link his current call with any of the open cases, but he can also create a new one.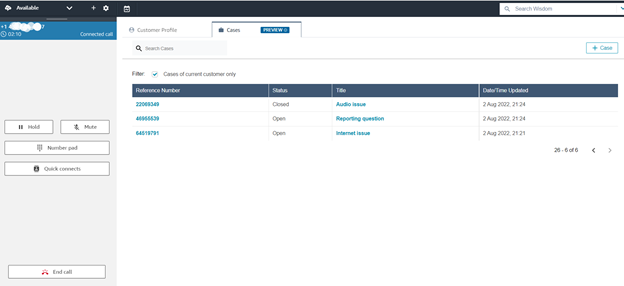 Creating a new Case is easy with a clickable button. Using a single interface, you can enter all information about the call and leave the summary for other agents to use.
What happens with cases after they are open or updated? To get an experience similar to other traditional ticketing systems, cases could be sent via email directly to customers or supervisors using Amazon SQS and a custom lambda.
Are you ready to step forward and use Cases with your contact center? No custom code or integration is needed to better organize your business, increase customer satisfaction, and reduce on-hold times.
Learn More About Our Amazon Connect Capabilities
We're an Amazon Connect Service Delivery Partner with more than 20 years of experience delivering customer engagement solutions. We offer unparalleled contact center experience to accelerate innovation with AWS and Amazon Connect. In addition, our cloud expertise enables us to create powerful solutions while maintaining business agility and flexibility, while our dedicated CRM and ERP practices ensure seamless integrations with legacy applications.
To learn more about what our experts are doing regarding customer engagement solutions and Amazon Connect and to get in touch with our team, visit our Amazon Connect page.