The Oracle EPM suite provides best-in-class business process applications when it comes to activities such as financial planning, consolidation and period-end close. Organizations are often looking for ways to easily incorporate financial information, out of EPM applications, into consolidated reporting with other systems (such as ERP, Sales, HR, and others). Also, there is great value in enabling navigation from summarized financials out of EPM, to more detailed transaction-level data out of other applications. Together Oracle Analytics Cloud (OAC) and Autonomous Data Warehouse (ADW) supplement the Oracle EPM suite, therefore providing an integrated view of EPM financials with other applications data.
OAC is an enterprise-level analytics platform that is well-known for its highly governable data modeling capability, thus providing reliable and company-wide standardized reporting. At the same time, OAC offers the agility often needed by business analysts to perform self-service data integration, data preparation and reporting. And ADW offers the fastest time to value when it comes to data consolidation across multiple sources for cross-functional analytics.
How Can Oracle Analytics Cloud and Autonomous Data Warehouse Supplement Oracle EPM?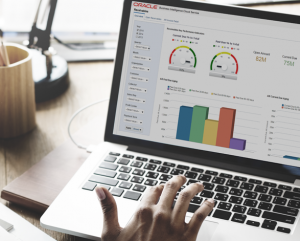 Explore key considerations, integrating the cloud with legacy applications and challenges of current cloud implementations.
At Perficient, we have successfully implemented several analytics solutions that seamlessly integrate with Oracle EPM.  Our methodology requires minimal data movement, leveraging direct connectivity from OAC to either EPM Cloud suite or on-premises Hyperion. Following are some of the benefits that are key to this solution:
Perform multi-scenario comparisons (such as actual to forecast to budget), explain variances, and understand drivers of profitability by going beyond GL level data to rich detail from sub-ledgers (such as Order Management, Payables, Receivables, Procurement, Projects, etc.).
Perform point-in-time and daily financial reporting (such as MTD, QTD & YTD) and compare against prior periods, and plans, throughout the month, and not just after completion of financial close.
Drill down to ADW transaction detail that is loaded from one or more source applications and optimized for reporting.
Consolidated reporting against large volumes of data, such as multi-year historical analyses.
Leverage existing investments in Oracle EPM technologies to perform federated reporting of non-EPM data sources against EPM dimensions (such as Product Hierarchy, Entity, Cost Center, etc.)
Dynamic dashboard-style analytics with modern graphics such as tiles, waterfalls and map layouts
In my next blog, I will present our quick start service offering to supplement Oracle EPM with Oracle Analytics and Autonomous Data Warehouse.
Are you heading to Collaborate in Las Vegas?
I will be presenting on a closely related topic: Daily Sales Tracking for Financial Analytics. If you are interested to explore your options with a similar solution, leave me a message.
You may also want to check out 6 must-attend sessions at Collaborate. Attend sessions, enter to win an Amazon gift card, and stop by booth #641 and drop off your entry form found in the OATUG Coupon Book for your chance to win an Oracle EPM Upgrade vs. Cloud Migration Workshop!