Are you looking to supplement your Oracle EPM applications with enhanced analytics capabilities?
At Perficient, we have successfully implemented analytics solutions that complement both on-premises Hyperion applications as well as Oracle EPM Cloud business processes: Planning and Budget Cloud Service, Financial Consolidation & Close Service, and Essbase Cloud. Our methodology requires minimal data movement leveraging direct connectivity from Oracle Analytics Cloud (OAC) or Server (on-premises OBIEE).
Following are some of the common solutions we have helped establish for several of our clients:
Deliver road-maps of the future-state of analytics combining EPM and Oracle Analytics in a complementary and value-add manner
Consolidated reporting of EPM financials with other data sources, such ERP, CX, HCM or a Data Warehouse.
Dashboard style analytics with modern graphics such as tiles, waterfalls and map layouts
Dynamic reporting that enables multi-scenario comparisons and interactive drill-throughs to detail
Comparing actuals to budget or forecast and explaining variances and understanding drivers of profitability by going beyond GL level data to rich detail from sub-ledgers such as Order Management, AP, AR, Procurement, Fixed Assets, Manufacturing, or Supply Chain
Comparing sales bookings to actual revenue as per the 'books and records' of the firm
Perform point-in-time financial reporting (such as MTD, QTD & YTD) and compare against prior periods, budgets and forecasts throughout the month, and not just after completion of monthly close and consolidation cycles.
Easy access to critical reporting on financial operations like GL to subledger reconciliation, intercompany eliminations, manual journal entries, unapproved invoices, etc
Facilitated reporting against large volumes of data such as multi-year historical analyses
Automated alerts on KPIs that are off benchmarks like common averages and standard deviations
Enable secure access to up-to-date financial information on mobile devices
Leveraging detailed business data within machine learning models to enable predictive forecasting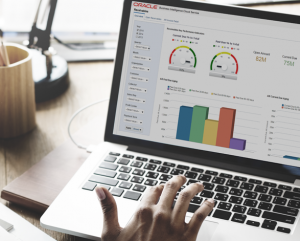 Explore key considerations, integrating the cloud with legacy applications and challenges of current cloud implementations.
What to Expect to Happen in 10 Weeks
The Perficient team can implement our solution offering in 10 weeks. Here is what you would expect to happen during that time:
Activate Test and Production subscriptions of Autonomous Data Warehouse (ADW) and Oracle Analytics Cloud (OAC).
Integrate an EPM application/cube into the Oracle Analytics model.
Create OAC Data Flows to load transaction data into ADW from another data source (could be Oracle or non-Oracle, Cloud or on-premises application).
Deliver a reporting data model consisting of 2 fact tables, 5 dimensions, and 1 EPM application.
Develop 2 dynamic OAC dashboards that combine EPM data with ADW data and enable drill-down to detail reports.
Test functionality and accuracy of reported data between OAC, EPM and other source systems.
Demo to the business OAC capabilities for self-service reporting, advanced analytics and built-in machine learning.
Perficient's service offering lays the foundation for an analytics road map that combines EPM, OAC and ADW in a complementary and value-add manner.
Are you heading to Collaborate in Las Vegas?
I will be presenting on a closely related topic: Daily Sales Tracking for Financial Analytics. If you are interested to explore your options with a similar solution, leave me a message.
You may also want to check out 6 must-attend sessions at Collaborate. Attend sessions, enter to win an Amazon gift card, and stop by booth #641 and drop off your entry form found in the OATUG Coupon Book for your chance to win an Oracle EPM Upgrade vs. Cloud Migration Workshop!