As consumers, we know what we expect from a personalized experience. We might see this put into action by our favorite retailers, through online ads and email marketing promotions created around our past behavior or buying decisions. But those same tactics and approaches don't apply to B2B marketing. There are several differences in the B2C and B2B buyer journeys that make personalization harder to deliver.
The Purchase Decision is More Complex
Unlike the B2C marketing funnel (Figure 1.1), you're not just talking to and providing an experience to a single individual buying something for themselves. In the B2B marketing funnel (Figure 1.2), the customer journey is fragmented, and there are typically several decision makers in different roles involved in the procurement of an item. Single-decision-maker personalization is hard enough to execute on its own, but add in a handful of decision makers, all with different roles, priorities, and preferences, and that's a lot of different touchpoints to get right.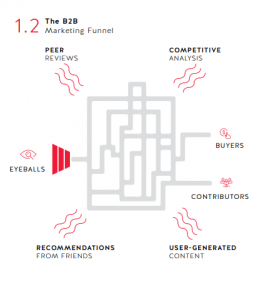 Personalization is More than Messaging
While messaging that speaks to each of these roles is important, it might not be enough. Personalization in a B2B journey may also mean implementing new applications and functionality that are tailored for a role. A buyer may want a spreadsheet-type view to input values, but a business owner is more likely to respond to a B2C-like product and checkout experience. The journey and means to purchase must be focused by role and where they are in the decision process.
Ease of Experience in Place of Promotions
Fifty-percent-off flash sales and BOGOs are common in B2C, but in B2B it's the experience and the information you provide, not promotions, that keep customers coming back. Prices are often fixed based on contractual agreements, so there's no competing on price, so you have to find other, more compelling ways to influence buying behavior. Aim to provide the right content around products and maximize self-sufficiency so customers can do enough research to compel them to do business. This might entail connections to your back-end systems to provide the information that a decision maker may need along the purchase journey (lead times, specifications, etc.).
The Journey May Not End Online
Unlike B2C, the purchase journey may not end online. And that's OK. Because of the complexities and various roles involved, the final call to action may very well be a call to the distributor or manufacturer. As long as you're providing the personalized content and information needed to compel them to make that call, you are executing on your personalization strategy
To learn more about what you can do to implement B2B personalization in your organization, download our free guide, How to Conquer Complex Customer Journeys in B2B Personalization.