At this point, I've started to explain the importance of prioritizing optimization efforts in order to see the best results in the shortest amount of time. In the previous posts I've told you about where to start testing and what to test.  The final piece of the puzzle is to explain why to start testing.  Why are some people converting on your landing pages or your top traffic pages, and why aren't others? In order to do this, we need to use specific tools to gather insights into understanding why people are and aren't doing the actions that you want them to take on these individual pages.
Then why is all about collecting and analyzing qualitative data to help answer why or why not visitors actually convert? From there, you'll be able to prioritize the top opportunities that align with your overall marketing efforts and goals. Analyzing quantitatively helps you understand exactly who visits your website and understand why they should be buying your products online.  Understanding the why is the key to understanding how to improve your conversions. To do this, we use specific tools to gather qualitative insights.  This data strengthens our hypotheses and provides us with testable ideas on how to improve our overall conversion rates.

To collect qualitative data we use a variety of different tools.  SurveyMonkey provides a platform for sending out very specific surveys to hundreds of respondents.  Surveys can be served to visitors at any stage of their decision-making process.  For example, after a visitor completes an action, such as visiting a specific page, filling out a form or completing a transaction, a pop-up opens with a few simple questions.  These questions are anything from ""What made you opt-in for this email campaign today?" to "What made you finalize your transaction?".  You can also do the complete opposite and serve visitors surveys if they did not complete the desired action, and ask questions such as "What's stopping you from converting today?" And " What is this page missing?"  These respondents provide first-hand insights and feedback about the specific website elements.
For a different perspective, UserTesting provides us with a way to watch people go through a website, competitor's website, and different Google search queries at their own pace.  We're then able to start to mold the why, and understand the voice of the customer and the different reasons why the website isn't providing the ideal user experience for them.  Understanding that intent is the key to making the pages and overall website better equipped for streamlining conversion optimization.
Hotjar, as mentioned in our previous post, also provides many useful qualitative tools and reports for figuring out why people may be leaving a website or not. For example, if people are on a top traffic page, and they move their mouse to the back button, we may want to pop open a HotJar-generated survey that asks, "What is this page missing?" or "How can this page be improved?"
Using qualitative data not only helps us understand the customers better, but it will help us put ourselves in their shoes, so we can use the website like they do.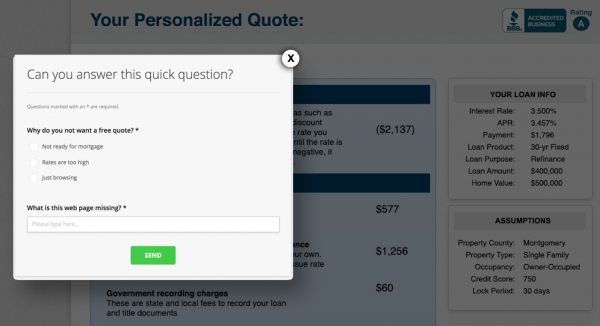 It's also important to mention the importance of understanding the why of different device types. Whatever device visitors use to browse a website, be it mobile, tablet or desktop computer, we make sure we're collecting all data specific to that device.  This helps us understand the different user behaviors per device and build out prioritized testing plans.
You now have a deeper understanding of the wheres, whats, and whys of testing and conversion optimization.  Putting this formula into action will provide you with a data-driven strategy for prioritizing the tests you want to run.  It will also help you achieve better results, increase your optimization plan's traffic, and potentially see, thanks to the eighty-twenty rule, a greater impact in a shorter amount of time.  The Conversion Optimization team will continue to provide you with industry news, insights, and best practices but for now, I hope these posts have been helpful for you to gain a better understanding of how to prioritize your efforts and put together a successful optimization plan.
View more posts about Conversion Rate Optimization.
For more help on how to increase your site conversions, let us take a look and let you know where you can improve. 
---
Ready to take the next step and accelerate your growth?
Get a complimentary evaluation of your digital experience strategy…