Perficient is an award-winning workplace that attracts and retains incredible talent from around the world. And while Perficient prioritizes the professional development of our colleagues through Growth for Everyone, building a supportive culture where every person feels comfortable, valued, and respected is equally important.
As outlined in the Perficient People Promise, we believe in developing a workforce that is as diverse and inclusive as the clients we work with. Together, we're constantly pursuing progress, and we're committed to actively listening, learning, and acting to further advance our organization, communities, and future leaders, always driving towards a diverse environment of inclusion and belonging.
Watch the video below to hear our colleagues share their experience working, growing, and learning from their peers around the world.
Our values are at the heart of each project, meeting, and deliverable. Felicia Johnson, portfolio specialist, Experience Design Sales, explains how our colleagues and diverse work culture motivate her personally and professionally.
"From a cultural perspective, how Perficient shows up for me as a black woman in the technology industry for over 25 years, it is about time to be seen and heard," said Felicia. "For me, that is huge. It is something that needs to be talked about. I think that Perficient from a cultural perspective does a beautiful job of that. Every single person that I work with always has this authentic space about themselves. It's what drives me and keeps me happy every day."
READ MORE: Perficient is Driving Diversity, Inclusion, and Belonging in Healthcare
Championing Leadership and Career Opportunities for Women and Minorities
As the leading global digital consulting firm, Perficient is uniquely positioned to drive change in the community through our future leaders in technology. With more than 7,500 employees, our colleagues around the world are key to our growth and success. We believe Perficient colleagues are the best and brightest in the industry. Together, we constantly pursue progress centered around diversity, inclusion, and equity.
Progress begins with commitment, and Perficient is committed to:
Promoting women in technology;
Partnering with diverse suppliers;
Celebrating multicultural learning;
Giving back to the communities in which we live and work; and
Maintaining a zero-tolerance policy.
Our Women in Technology (WiT) Employee Resource Group (ERG) helps to promote career and educational growth for women through fostering meaningful connections with experts in the field. Members can connect with mentors, hear panel discussions, attend networking events, and participate in internal events and campaigns that demonstrate and celebrate our diverse cultures. Through mentorship and networking, women and allies can build strong relationships with their peers while learning helpful advice for career progression at Perficient.
"It's amazing to see how many women that we have in the leadership position management," said Lorena Fernandez, project manager, Argentina. "In any part of the company, you see the women present, and it's really strong."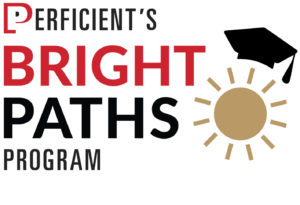 Additionally, we are advancing STEM education by bringing more diverse insights and skillsets into the conversation to drive true innovation. We recognize that the responsibility to help drive equity throughout the broader technology industry falls on us, and our Bright Paths Program is designed to advance STEM education and career opportunities for underrepresented constituencies and communities.
Founded in partnership with Strayer University's Hackbright Academy and DevMountain, the program is a fully funded, 16-week custom-coding bootcamp that is creating relevant learning experiences and preparing students for the workforce. With more than 180 graduates since its launch in 2020, including many women and minorities, the Bright Paths Program helps participants develop the skills needed to begin a successful career in technology.
 READ MORE: Celebrating Our First Bright Paths National Cohort
Perficient and our colleagues are active thought leaders in the technology and digital consulting space, regularly attending industry tradeshows and hosting networking events to share our expertise. Whenever possible, we participate in industry programming that supports and enables career growth for women in technology. Our award-winning Women in Digital panel discussions in collaboration with Adobe feature a panel of senior leaders from across various industries who facilitate conversation about professional growth, empowerment, and digital innovation. We've also hosted our own events focused on empowering woman, like our panel discussion on proactive women's health discussing several ways the health ecosystem seeks to better understand women's needs and a meaningful care journey.
READ MORE: Perficient and Adobe Donate $4,000 Through Women in Digital Event
These efforts are just a few of the programs and practices Perficient has implemented, and they serve as an extension of our larger companywide movement to empower women to follow their dream, believe in themselves, and explore a career in STEM. Read the Life at Perficient blog to discover more about how women at Perficient are advancing their careers within the technology industry.
Advancing STEM in Our Global Communities
Perficient focuses on empowering diversity, inclusion, and belonging in our global organization, and we're bringing a similar mindset to the communities where we live and work. As part of our corporate giving philosophy, we strive to advance STEM education while improving health and wellbeing. Through the Perficient Gives Charitable Match Program, U.S. colleagues make monetary donations to eight charitable organizations that are matched by Perficient. Learn more about the difference we're making in the STEM community to support organizations such as FIRST Inspires (FIRST) and Girls Who Code.
We're proud to provide educational opportunities for women in technology. One way we have achieved this was through our support of Techie Masters, an all-female robotics team located in the rural community of Valparaíso, Colombia.
Participants in Perficient's Techie Masters team are empowered to realize their potential to change the world through their passion for technology. With our support and partnership with the Girl Powered Program, the team received hands-on experience, training resources, and educational materials to help them build a robot for a global robotics competition.
READ MORE: Discover How We're Sponsoring The Techie Masters Robotics Team
Our colleagues are changing the world through their passion for mentoring the next generation of technology leaders. We're supporting high school students in underserved communities by hosting AI Bootcamps in collaboration with the Mark Cuban Foundation. During these bootcamps, students learn the fundamentals of AI and machine learning through educational seminars, lessons, and interactive lab exercises. So far, we've hosted three bootcamps in Dallas and Houston, and we're expanding the program in fall 2023 with AI Bootcamps in St. Louis, Detroit, Dallas, and Houston.
Perficient's culture embraces diversity, inclusion, and belonging, and there is much more to come in 2023 and beyond. Take a look at the fourth blog in our series featuring Perficient's People Promise, Global Footprint with Genuine Connections, to learn how our global presence creates opportunities for collaboration and connection.
This slideshow requires JavaScript.
It's no secret our success is because of our people. No matter the technology or time zone, our colleagues are committed to delivering innovative, end-to-end digital solutions for the world's biggest brands, and we bring a collaborative spirit to every interaction. We're always seeking the best and brightest to work with us. Join our team and experience a culture that challenges, champions, and celebrates our people.
Visit our Careers page to see career opportunities and more!
Go inside Life at Perficient and connect with us on LinkedIn, YouTube, Twitter, Facebook, TikTok, and Instagram.