We are proud to announce 30 new Bright Paths Program graduates, marking the successful completion of our first national cohort open to students across the United States. These graduates displayed innovative thinking, creativity, problem-solving, and above all, hard work and dedication.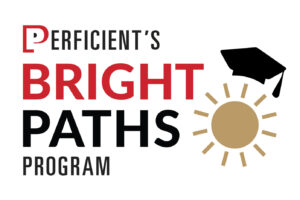 The Bright Paths Program is designed to advance STEM education and career opportunities for underrepresented constituencies and communities, working towards closing the gap in the technology industry. Throughout the 16-week coding bootcamp, students completed software engineering coursework, learned about the consulting business, and connected with Perficient colleague mentors. In partnership with Strayer University's Hackbright Academy and DevMountain, this fully funded coding bootcamp provides students with the opportunity to learn the necessary skills to prepare for careers in the tech field. Since launching the Bright Paths Program in 2020, more than 180 students have graduated from the program with the majority joining Perficient.
READ MORE: Perficient's Bright Paths Program Brings Ingenuity and Community to the Forefront
Students focused on building foundational coding skills during the first half of the program, and by the second half, they chose a specialization to work on for their capstone project. Prior to the virtual graduation ceremony, students were given the opportunity to share and demonstrate their applications with their peers. Some highlights include a software tracking application for restaurants, a pet adoption application, and a Marvel project that allows users to find out more about their favorite comics and characters. Each graduate conceptualized and created a unique application from start to finish.
Mentors, instructors, and other supporters joined the virtual graduation ceremony to celebrate the students for their impressive accomplishments. The ceremony was complete with inspiring speeches and a certificate presentation where each graduate was individually recognized with a shoutout. The graduates took pride in their hard work and proved their commitment to learning and building both technical and consulting competence.
"I learned how to work with deadlines and ask for help," said Hoyoung, a Bright Paths Program graduate. "The best part was I never had to struggle alone. There was always someone willing to jump in and help as we were learning challenging new concepts. We really bonded over the last 16 weeks, and I'm honored that I got to work with them and proud to call them friends."
Tim Porter, a director from Perficient Lafayette Delivery Center, gave a brief speech during the ceremony congratulating all the students for their efforts. He said, "You can't have a technology career without a complete and utter commitment to learning. Learning to learn is something you have built out of this. The industry changes constantly and nothing approaches the rapid change of the technology industry. That is both a hard thing and an opportunity. You guys have taken the first opportunity, so congratulations on doing the hard thing, building your competence, and learning to learn."
Gaby Perez, talent acquisition manager and Perficient Bright Paths facilitator, closed the ceremony with a brief reflection of her time spent with our Bright Paths students. She said, "16 weeks flew by. Be proud of yourselves for this amazing accomplishment. Your varied backgrounds and skillsets really makes this cohort such a unique one. I had a lot of fun spending time with you every week, and I hope that you walk away with a renewed sense of energy to tackle either a new career in tech or continue your learning."
Perficient is committed to making a difference in our communities, and we are excited to see our Bright Paths Program continue to create more opportunities in the technology industry. Perficient makes a promise to challenge, champion, and celebrate every colleague. Included in that commitment are company-wide initiatives like Growth for Everyone, which enables and encourages colleagues to chart their own career path. Perficient offers valuable resources to continue learning, map out professional goals, and understand the full potential of a career in technology. Our hope for these Bright Paths graduates is that they continue to expand the foundation they have built and make a positive impact in the tech space.
Our second national cohort is now underway and set to graduate later this year. We are excited to welcome several program graduates to Perficient as new colleagues, and we extend our kudos and congratulations to all of the latest Bright Paths graduates as they embark on their careers in technology!
---
At Perficient, we continually look for ways to champion and challenge our talented workforce with interesting projects for high-profile clients, encourage personal and professional growth through training and mentoring, and celebrate our people-oriented culture and the innovative ways they serve Perficient and the community.
Visit our Careers page to see career opportunities and more!
Go inside Life at Perficient and connect with us on LinkedIn, YouTube, Twitter,  TikTok, and Instagram.