As one of nine launch partners for Red Hat OpenShift Service on AWS (ROSA), Perficient has developed a Kubernetes-based accelerator to take your applications to production on OpenShift in just a few hours. ROSA is a fully managed and jointly supported offering that combines the power of OpenShift and the AWS public cloud.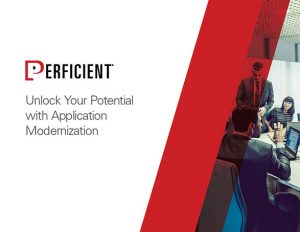 Application modernization is a growing area of focus for enterprises. If you're considering this path to cloud adoption, this guide explores considerations for the best approach – cloud native or legacy migration – and more.
On Sept. 14, join Perficient's Matthieu Rethers, Senior Solutions Architect, and AWS' Ryan Niksch, Partner Solutions Architect, as they showcase a demo of ROSA. During the demo, you'll:
Learn how to launch a ROSA cluster
Receive an introduction to GitOps and Perficient's accelerator
Learn how to migrate existing applications to OpenShift
Observe Day 2 operations, including logging, monitoring, and metrics
Get a look at our 12-week Kubernetes pilot program that will help you migrate existing Java applications to Kubernetes
Come prepared with questions for our cloud experts. If you're unable to attend the live event, all registrants will receive a link to a recording of the on-demand webinar post-event.