Amid COVID-19, we are purchasing almost all of our products online, meaning more and more customers are going online each day to find the products they need, which can become a struggle with the lack of in-person assistance. Digital tools, however, can play an important role for businesses and consumers during their online shopping experience, such as integrating a Live Chatbot. Implementing Live Chat into your Episerver B2B Commerce Cloud, formerly Insite Commerce, site is helpful to your business and assists customers through their commerce journey in more ways than one.
Let's dive into how Live Chat is resourceful for your business and consumers, as well as how simple it is to integrate it into the Episerver B2B Commerce Cloud framework.
The Leading Digital Contact Method
We live in the digital age, meaning we expect quick and accurate responses, especially when buying online. Live Chat allows customers to communicate in real-time with customer service representatives in a chatbot, rather than waiting to speak with a representative on the phone.
Live Chat can improve customer service and loyalty in the following ways:
Responding quickly to questions about specific products
Solving customer confusion and problems faster
Making new customers feel welcome with helpful communication
Assuring your customers that you are available at a moment's notice
The Tool is Extremely Easy to Implement
I implemented Tidio Live Chat into an Episerver B2B Commerce Cloud website using JavaScript code. The Tidio Live Chat includes a free plan and is simple to implement. Follow the steps below and accurately integrate Tidio into your Episerver B2B Commerce Cloud framework.
Step 1: Create a free account and install Tidio using the JavaScript Code
a. You can set up a new account at Tidio by clicking on "Try it out" at the top right corner.
b. After clicking on the "Try it out" button, you will see how you can register for a free account. There are four options to create a free account. Click on the "Email" option to register using your email address.
c. Fill out this form and enter your website URL. Click on the "Create a Free Account" button and successfully register your account in Tidio.
Step 2: To install Tidio using the JavaScript method, use the following steps:
To get the installation code, go to Settings > Channels in your Tidio panel and click on Integration.
Press Copy. The Tidio JavaScript code will copy to your clipboard.
After clicking on Integration, you can access a set of instructions with a JavaScript code by clicking the "Click here" button.
a. Open your B2B Commerce Cloud website admin panel and make sure that Content Editor is clicked on. Then, click the Blog Website.
b. Open Content Management in the top left corner. It is the icon furthest to the left.
c. Click Footer and then click the Edit icon. The edit icon is the pencil in the top left corner in the middle.
d. Click the Edit this Page icon. It is the pencil and paper icon in the top right corner farthest to the left. Once you click it, you can modify the page information. Add the JavaScript code in the JavaScript section. Click the Save button to solidify the page changes.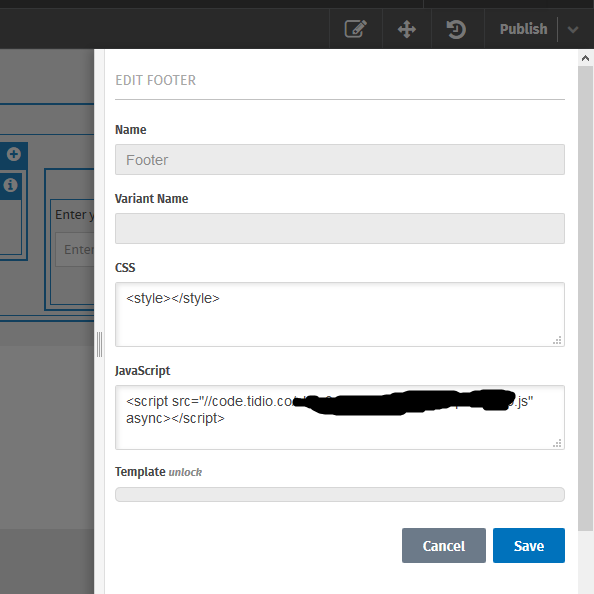 e. Click the Publish button to submit for approval.
f. Go to your website after you have published successfully and check for the Tidio Chat widget on all the pages of your website.
g. After you click on "Chat with us", a chat will appear.
Implementing Tidio Chat into your commerce framework is as easy as that. Integrating online tools such as Live Chat has a direct impact on how your customers interact with your business in the end. It helps you serve your customers better and improves conversion rates and customer satisfaction, making it a win-win for both business and consumer.
For more information on implementing Live Chat into your Episerver B2B Commerce Cloud framework, contact our commerce experts today.