There's a reason why one of our most important values at Perficient is "People". We embrace our culture and our talented colleagues. That's why we're excited to announce that we have been named a 2020 Best Places to Work by the Atlanta Business Chronicle! So far in 2020, Perficient offices have already won three top workplace awards in the Southeast region. Earlier this year the Atlanta office was also named a Top Workplace of 2020, and earlier this month our Charlotte office was deemed a Best Place to Work in their area!
The Atlanta Best Places to Work program is run by the Atlanta Business Chronicle each year to recognize the most outstanding companies in the area. Each organization is judged based on results from an employee survey. The organization asks employees to rate their company's work environment, people practices, culture and more. This year's survey results make it clear that not only is our Atlanta office a great place to work, but it also home to an unwavering company culture and a team that's built to succeed.
About the Team
The Atlanta office is a home away from home for its employees, and the team that works there is one big family. Before the pandemic, they could be found sharing Friday lunches, competing in table tennis tournaments, and enjoying golf outings, among many other things. The company culture is extremely important to this group, and they make sure to live it every day.
They are also active in their community and enjoy serving others. Back in March, some of the employees woke up early on a Saturday morning to volunteer at the Food Well Alliance's Community Gardens Program. Throughout the day, they worked together to weed, mulch fruit trees and transplant strawberry seedlings to help the Food Well Alliance increase the local communities' access to fresh natural food options. Outings such as this strengthen the team and are important factors in building this office's award-winning culture.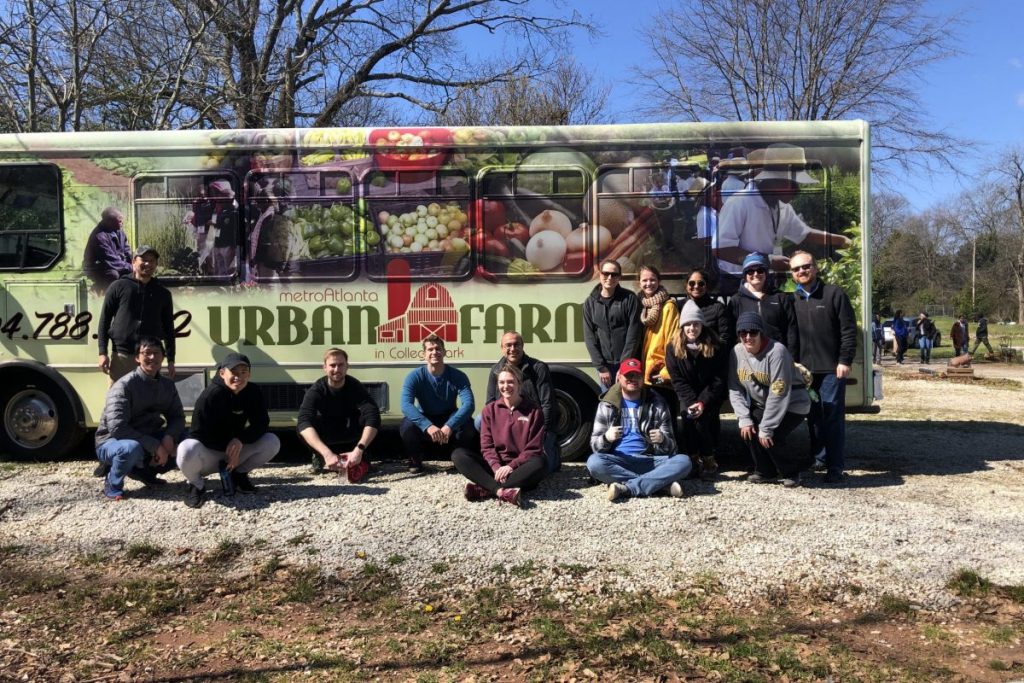 A Remote Celebration to Remember
One of the most impressive things about the Atlanta team is how well they have stayed connected during the COVID-19 pandemic. With most employees working from home, the team has been separated for several months now, and they have been unable to collaborate in person. However – this has not slowed them down one bit.
When the team found out that they had been selected as one of Atlanta's Best Places to Work for 2020, they immediately began brainstorming on ways to celebrate. In normal times, the team would have had an office celebration and attended the winners' event, but due to the ongoing pandemic, this would not be possible this year. The team pivoted and decided to pursue a drive-thru celebration and virtual photo challenge instead. Each employee was invited to "come together" at a safe distance on the selected day and drive through a line to celebrate and cheer at their accomplishment. They were also all asked to take a selfie at their "work from home" desk to show the different ways that Perficient Atlanta was handling remote work. These photos were put together in a single collage to symbolize how although the team was working apart, they were all still a unified group. It was a unique way to bring the team together, and just one example of how their culture is thriving, even in these difficult times.
An Exceptional Company Culture
The Atlanta office will be honored for their Best Places to Work win at a virtual event on September 24th. They will also be recognized in a special section of the Atlanta Business Chronicle. This win adds to the list of Perficient offices already recognized as top workplaces this year. Charlotte, Detroit, Minneapolis and St. Louis have also received this honor, proving that the Perficient culture is stronger than ever.
---
At Perficient, we continually look for ways to champion and challenge our talented workforce with interesting projects for high-profile clients, encourage personal and professional growth through training and mentoring, and celebrate our people-oriented culture and the innovative ways they serve Perficient and the community.
Learn more about what it's like to work at Perficient at our Careers page.
Go inside Life at Perficient and connect with us on LinkedIn, YouTube, Twitter, and Instagram.