Gartner predicts a whopping 70% growth in artificial intelligence (AI), while niche vendors such as KenSci and viz.ai are shaking industries with their industry specific intelligence. In addition, software vendors such as Informatica and Microsoft are heavily investing in putting pervasive AI in their own technologies to efficiently use their software for better augmented intelligence and automation. However, Gartner also predicted a slowdown of AI growth in the next decade as indicated by the trending curve. So being a strategist working in the digital transformation and services industry for a while, I was thinking, "What's in it for me?"
Here are my predictions for five important areas of focus for IT service providers (ITSP) in the coming years.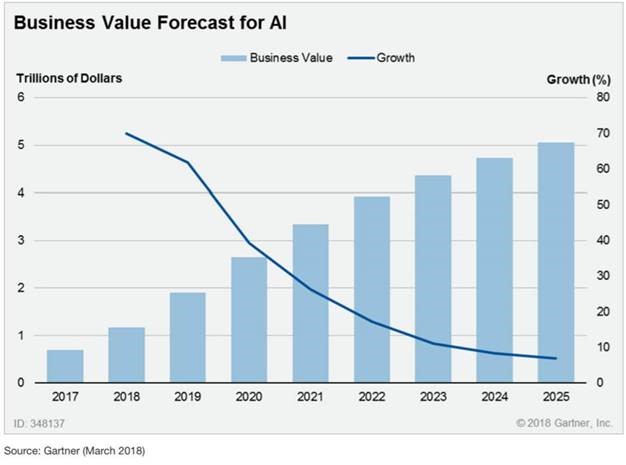 1. Managed Services
Gartner stated that organizations that are working with AI or machine learning (ML) have, on average, four AI/ML projects in place. The biggest problem these organizations face with their AI is either that the data is not available for AI or there is not enough sample set population for the AI to provide an unbiased approach. As ITSPs, we have a tremendous opportunity to support our clientele to create and manage their big data environments and cloud platforms to support their AI initiatives. PR News estimated the big data market in 2023 to grow at a compound annual growth rate of 29.7% to $40.6 billion primarily driven by IoT of people, things, and environmental factors.
2. Personalization and Digital Transformation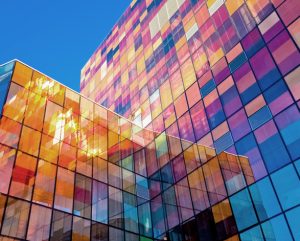 With some guidance, you can craft a data platform that is right for your organization's needs and gets the most return from your data capital.
Boston Consulting Group has written about what it calls it AI@Scale. It's where AI taps into the large unstructured data world of videos, imaging, and text and is embedded back into the products and services that companies are building. This intelligence is shaking fundamental ways of doing business and identifying new ways of targeting customers. The whole genre of digital marketing was enhanced with AI embedded software such as Tealium and Dynamics CRM identifying new opportunities that humans wouldn't think of. But as an ITSP, linking technology, data, and AI to human intellect, experience, and the "gut" feeling is an art of emotional intelligence that can never be replicated or duplicated by Narrow AI.
3. Building Narrow AI and General Purpose AI
Narrow AI is in the field of decision support and automation using deep neural nets, agents and chatbots (such as Alexa and Cortana), and the continued building and enhancement of smart products that may increase efficiency, reduce operational cost, and provide insights. The goal of this focus area is not just to improve customer experience and retention, but also to identify new revenue opportunities that humans have never thought about and explore those market opportunities. Gartner predicts that by 2020, at least 40% of the population will interact with virtual private agents and voice response systems such as Alexa and Google Home.
4. Partnering and Supporting Small Business growth continuing the expand AI capabilities
CBInsights stated that in 2018, a record $9.3 billion was invested into US AI startups in healthcare, retail, manufacturing, marketing, and others. And the top 3 states for AI deals were California (48% of deals), New York (12%), and Massachusetts (9%). The most common pattern of AI among those were machine learning AI. I myself am dealing with at least 3-4 startup companies and they want to partner with us to target a larger market. We're very supportive of taking every effort in supporting them and encouraging them to open up and target the market. In addition, there is nothing better than helping a customer reap the value of their investment. So learn to embrace the startups and partner with them.
5. Training and Building Workforces
World Economic Forum predicted that 75 million jobs will be displaced and leave way to 133 million new types of jobs. Large educational institutions such as Harvard and MIT have started virtual and physical classrooms to train a new workforce to support this age of AI. Online training courses from EDX, Coursera, and MIT have excellent offerings to teach AI and ML techniques for new people to develop the skills. Bernard Marr highlights the top 6 options to learn AI and ML for free in some cases. CNBC did a survey and found that workers are the happiest in their workplace when their job has meaning. As ITSPs, it's our job to support Baby Boomers, Gen X, and Gen Y workers who are moving into this world of AI with insecurity and limited knowledge to make them feel comfortable and teach them how to fish. Also hiring these skills from college and providing them real world experience can support the economy with new skills and new labor market.
AI and digital technologies continue to grow, change and become integral parts of our daily lives. It's important to monitor the market nuances and stay up-to-date in order to provide the digital transformation solutions that customers need.