At OpenWorld 2018, Mark Hurd, CEO of Oracle, walked us through success in the cloud with a range of experts.
Accelerating growth in the cloud may depend on political, economic and technology factors that companies need to consider as they upgrade to the cloud. Mark Hurd will discuss and lead conversations with geopolitical experts and customers already succeeding in the cloud to consider how companies can more easily adopt a cloud strategy and take advantage of innovative technologies that will drive the next wave of accelerated growth.
The agenda:
Political environment with regards to Information Technology
Acceleration of cloud adoption
What's next after cloud
Customers and success in the cloud
New Predictions
Politics of Information Technology
Ian Bremmer, President of Eurasia Group, joined Mark Hurd. He's the premier political scientist around the world.  He can intersect politics with what's happening with the technology industry.
Mark: Take us on a quick visit on the big picture.
Ian: We live in a world where the economy is doing well but the geo-politicas don't feel good.  Two reasons. First; China is not aligned politically and economically. They are building alternative architecture. At the same time, most of the worlds democracies feel like the system is rigged against them. These are reactions to immigration, social media and fragmentation, etc. When you put all these things together you get a divided US and Europe while China is consolidating power. So the politics feel uncertain and volatile.
Mark: You introduce China as the biggest economy in the world. Is it?
Ian: We expect China to overtake the US in the next decade. But the footprint of this is big. It's very much the Chinese government.  When the US goes in, the government is quite separate.  So the necessity to listen to Chinese leaders is more important. They are already an economic super-power. They are also a new technology super-power. This will be a game changer in how we think of the global free market
Mark: You make a point on China's investment in defense. Can you talk about that and the US investment.
Ian: When you have Trump say, "I'm not a globalist I'm a nationalist" That's a message that resonates with a lot of people. At the same time, China is investing in AI, semiconductors, etc.  They are making the tech companies strategic. This is different from the era where Lockheed, Northrup and others were the most important.  But now, Microsoft, Facebook, and Oracle are critical to the US.  But in China, they are investing into national monopolies in these tech companies.  China's One Belt One road plan is 7 times the magnitude of the US Marshall plan.
Mark: Talk about the intersection of IT and security.
Ian: there are two big things to focus on. The global market will fragment.  If they have their own internet then the standards will change.  Most first world will stick with US internet and other standards but emerging markets may well choose China.  This is coming relatively soon. Second point if about the ability to come up with effective deterrents against cyber theft. Think about 10% of Ukraine computers were destroyed by hackers.  Big companies computers were infected in Ukraine.  So much investment needs to occur with resilient defense.
Mark: Any thoughts about the Middle East?
Ian: We got the Davos in the desert going on now.  All CEO's sent someone.  Europeans do a lot of business with Saudi Arabia. Mohammed Bin Salman is a serious social reformer, economic, and religious reformer. He's going to get a backlash. He's weaker now.  People won't believe in these audacious reforms.  In that regard, this journalist will have an impact in the investment climate.
Summary
Data is key asset for business own, analyze, and secure
Virtual assets will win over physical assets
Cyber teams are the new future
Cloud and integrated technologies, like AI, help organizations lower costs while driving innovation and improving productivity
Acceleration of Cloud Adoptions
A quick look back at predictions three year ago:
80% of production apps will be in the cloud
Two SaaS suite prvider will have 80% market share
The number of corporate owned data centers will have decreased by 80%
80% of IT budgets will be spent on cloud services
All enterpise data will be stored in the cloud
From 2017

More than 50% of all enterprise data will be manged autonomously
What the analysts say
80% of all IT budget will be committed to cloud (Forbes)
80% of data centers will be shut by 2025 (gartner)
Oracle, Salesforce, MST will have 70% share of SaaS (Forrester)
AI Technologies will be in almost every new software product by 2020 (Gartner)
What's Next After Cloud
Cloud is accelerating. Cloud is core. Cloud is foundational to modern business.
Fact: Just last year 15% of US corporate owned data centers shut down.
Cloud foundation plus AI will bring increased productivity and innovation.  AI though, is not an independent solution. It's a core feature that will be embedded in every solution. It will increase both productivity and innovation.
ERP cloud: 30% of finance analyst times is spent moving spreadsheets. AI will automate this.
HCM Cloud: 35% of the day is sourcing and processing.  AI will cut this in half.
SCM Cloud: 65% of manager time spent manually tracking shipment of goods. With blockchain, thie soulc be automated with visibility and trust
CX Cloud: 60% of phone support time on customer issues could be avoided altogether
Customers and Success in the Cloud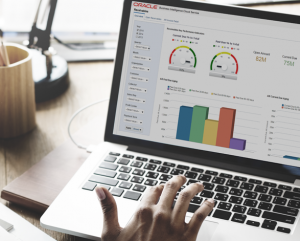 Explore key considerations, integrating the cloud with legacy applications and challenges of current cloud implementations.
The Wonderful Company changed their business but were using tools based on hte old business. They started with Oracle Transport and are implementing Oracle SCM and Oracle ERP.
Stitch Fix wants to focus on growth to scale the business. They want to use the tools to think more strategically.  Let's close the books in one day.
Sherry Aaholm, CIO of Cummins interview
Mark: How has Cummins changes?
Sherry: (Highlighted their new electric vehicle) Many think of Cummins as someone who makes big engines and power generation units.  But in today's environment, we care deeply about what's happening in regulatory and environmental side. We also pay close attention to the market. We see a lot of advancement in China. They've moved up their emissions requirements. CA Ports have moved to no fossil fuel vehicles in those locations. Paris is doing the same for the entire city. It would be naive to say we'll stick with Diesel.  That's why we've made investment in electrified power and other alternative power sources. Moving into this space has created new opportunities.  We now see that the environment and ecosystems for fossil fuel are no longer applicable. It's about selling an electric vehicle and helping our customers understand the ecosystem.  We are using data from those vehicles to help determine optimal routing for example
Mark: How is Oracle doing for Cummins?
Sherry: We are a huge ERP environment. We have 80 manufacturing plants around the world.  Data is important. We need to rely on those ERP systems. The HRM and ERP systems need to work. Always current. Always on. We need those systems to work so Cummins can move resources to focus on this transformation (see above)
Mark: Tell us about working together as suite of apps.
Sherry: The integration is critical.  It's table stakes. If we can't rely on these core systems, then we can't invest in the new capabilities that affect our future. We also need that data to help with the change as well.
Mark: What's next in IT for Cummins?
Sherry: Let me add one other part. As a 100-year-old company, many of our products stay in market for a long time. We have engines that are 50 years old. We service and support them. We are moving the support we do.  These engines have sensors now. We have 50 different servers in a server farm so we can move a lot of different environments.  Next: we see the value of data and cloud. We need to get speed.  Things that would take years can now move much more quickly.  From Oracle, we need to continue to upgrade our ERP and use AI to improve productivity. We want to move people to the higher value work.
Cisco Tetration
Navindra: Tetration is a cyber security play. We pull lots of data and stream it into our analytics engine to detect anomolies and breaches
Mark: Your growth has been great?
Navindra; We are growing 200% per quarter. It's a great platform. We are passionate about it. AI needs to be close to the data
Mark: What got Tetration and Oracle together?
Navindra: We always wanted to go on SaaS. We started with the two largest providers. But our cost structures were high. We had 5% utilization on CPU but were blocked on I/O. We didn't control placement on our servers and others impacted us.  OCI came along and we ported on top of OCI and started running it.  We were seeing 75% utilization and 6,000% performance improvements.  We consolidated on OCI and passed the saving on to our customers. This also allowed us to address small and medium businesses.
Mark: when you look at other providers. What's the differentiators
Navindra: We do't have no noisy neighbors. we are on bare metal VM which OCI allows.
Mark: What is a noisy neighbor?
Navindra: The cloud provider tries to put as many companies on the same physical infrastructure.  But when they burst and we burst, we get a lot of problems competing for resources.
Mark: What's next for Tetration?
Navindra: We want to grow our scale.  Each of our clusters of 36 machines.  We have 40 such clusters. That's a lot of metal. We would love to go to market with Oracle and jointly sell together.
Mark: Anything else?
Navindra: OCI Team has been phenomenal. They are like a startup inside of a big company. We went to production within two months.
Thaddeus Arroyo, CEO ATT
Mark: Tell us about the new ATT.
Thad: ATT is evolving into a modern media company. We've been connecting people but now we need to connect to the new trends. We need to deliver new experiences with great network, premier content. When we look at ATT business, we serve 300 Million people across many countries. A big part of what we do is to create transformation capability. Digital relevancy will lead to competitiveness. It's about fundamental competitiveness. We are moving to a world of consuming and innovating on top of the physical.  We need to adopt new capabilities that allows us to meet consumer and business demands. In this evolution, we need to move with a higher speed and agility. We've moved about 80% of our apps into the cloud. The next step is to move our databases into the cloud. As we work with Oracle to push the envelope. As we can move petabytes of information into the Oracle cloud.  It will change the way we run our technology. More and more the product is software.
Mark: Let's talk about your cloud strategy including NetBond.
Thad: We begin with moving just software services to workload and finally the full environment.  It's the new speed and agility which is the game changer.  When we do it right, we create a pathway that's the fastest. We engineer our network directly into the Oracle Centers.  We keep that data completely off the public network. It's secure. We create a net bonded relationship so it's secure and performant. We embed security into all of this.  This allows us to move at a new speed and agility. We support the past workloads better but are ready for the new types of workloads. We are ready for the most complex parts of these systems and moving them at scale.  We will move our entire network into the cloud
Quote; 75% of our network will be software based by 2020. We are disrupting ourselves. The network is virtual.
This intelligence now can move to the edge. The friction is gone from the early days of private cloud to now we have a completely consumptive model.
Mark: You mentioned security. What's your latest view?
Thad: we are moving into a different era. Trust is under attack in every industry. The nature of attacks have changed. The nature of the risk come from nation states.  We need to use AI and machine learning to predict and discover.  We have a services offering with technology from Alien Vault. We embrace the ecosystem.  It does't replace the old security. it's coupled with new capabilities.  When we move 200 Petabytes of data, it still needs to be secure.
Mark: Any last message?
Thad: We are at the cusp of a new world of mobility. The move from 4G to 5G will make it about more than speed. It's about latency. 5G will have 9-12 milliseconds.  Computer delivered over the network means we can do so much more.
Quote: We will have 5g in parts of 12 cities by the end of 2018.
Mark's New Predictions
by 2025 all cloud apps will include AI.  AI will be pervasive in all business applications
The same will be true for technologies like Blockchain
By 2025 85% of interaction with customer will be automated.  AI Digital assistants will do it. Analytics will help business gain understanding
60% of IT jobs haven't been invented yet

AI changes the productivity equation
Automation will not replace all jobs but will invent new ones
Think: Data professional, Robot supervisor, Human to machine UX specialist, Smart City technology designers, AI assisted healthcare technician
Final Summary
Cloud is foundational. It's no longer a debate
Next in cloud is accelerated productivity and innovation
AI and other tech will be integrated features
Autonomous DB software will reduct cost and risk
You will be able to flip budget from maintenance to innovation