The benefits of cloud hosting – including Infrastructure-as-a-Service (IaaS), Platform-as-a-Service (PaaS), and Software-as-a-Service (SaaS) – are very clear: less upfront capital, faster implementations, scalability and elasticity, and no need for individual companies to maintain physical space, hardware, and/or technical staff for support.
But there are also several risks to consider, including physical and technical security, privacy and confidentiality, technical support, enhancements, application uptime/availability, vendor stability, and data mobility – the ability to extract data from the system. In industries like life sciences, the stakes are even higher because the systems used for regulated purposes must comply with the governing regulations.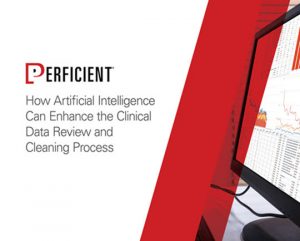 This guide analyzes how artificial intelligence – including machine learning – can be used by pharmaceutical and medical device companies to improve the clinical data review and cleansing process.
The benefits of the cloud are so compelling that it is simply not practical to avoid it altogether. In an upcoming blog series, we'll help you make the most of what the cloud has to offer, while still maintaining regulatory compliance.
Check back in a few days for the next post in this series – a refresher on which IT systems are regulated. In the meantime, you can download our guide on this topic by filling out the form below.