Driving Forces Impact CRM Investments
Cloud is now seen as mainstream in all areas of customer relationship management (CRM). In fact, Gartner forecasts that software-as-a-service (SaaS) and cloud-based deployments will dominate the CRM market in 2016. What's the driving force behind this rapidly growing trend? Organizations of all sizes are moving toward easier deployments and faster-ROI alternatives to modernizing legacy systems – and CRM is no exception. CRM is viewed by many as one of the four major pillars of investment for organizations as they seek to deliver an integrated customer experience. To achieve this, it has become table stakes to have a clearer and more complete view of the consumer's interactions with a brand across marketing, sales, service and beyond. As a result, we've moved past the need for having a CRM that can simply monitor the transactional behavior of the customer to one that can accelerate enterprise digital transformation.
Moving Beyond Using Salesforce as a Transactional CRM
It's no surprise that Salesforce is viewed as a market leader helping organizations embrace digital transformation by pioneering new business models for 1-to-1 customer experiences. For existing Salesforce users, the next step in your journey is to find new ways to leverage the cloud platform as a strategic asset for your business. Some hot CRM initiatives we're seeing include integrations to back-office systems like accounting, ERP and quote-to-cash applications, and assisting customers to "right-size" the solution to ensure adoption. While an implementation may have gone smoothly, it's more than likely your company has evolved since the software was installed so post-go-live optimization or continuous improvement is a great way to help your business realize the true value of Salesforce.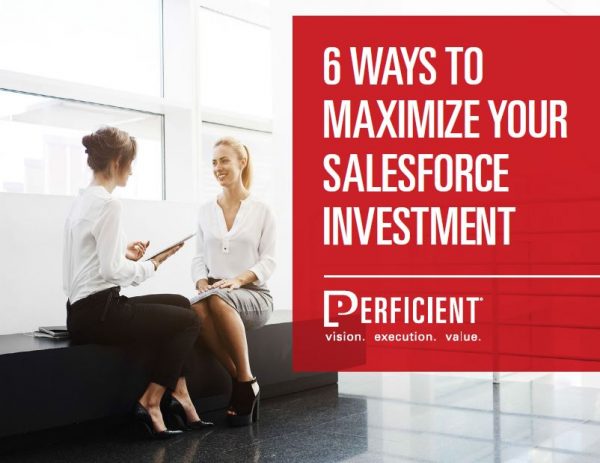 For more expert insights on Salesforce optimization, download this new guide covering six key ways to help you accelerate cloud CRM adoption, optimize the solution to fit your business needs, and unlock new opportunities using Salesforce. We not only share tips from our CRM consultants but also real-word success stories from our Salesforce customers.