Oracle OpenWorld 2013 turned out to be one of my best experiences with a trade-show ever!  I made new contacts, I learned about product strategy and I learned about awesome customer stories related to innovative healthcare solutions.
Perficient's Lesli Adams @lesliadams  provided innovative solution overviews highlighting healthcare business intelligence solutions #OBIEE for Patient Centered Medical Home and Accountable Care analytics with Dr. Marcie Stoshak-Chavez @DrMarcieSC, as well as, a session presentation highlighting use cases for #BigData in Healthcare.  Lesli also provided great insight to information discovery using both structured and unstructured data at the #BigData demo grounds with Oracle's Jim McDowell .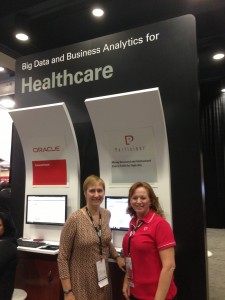 I also attended several sessions about how provider organizations are leveraging Hyperion Profitability & Cost Management to achieve profit and loss transparency via activity based costing.  These leading edge organizations are working with both hospitals and physicians to build models that truly capture service line and encounter level profitability and cost.
I made many new contacts in the Oracle CX space while also beefing up my knowledge about Oracle SOA and the Oracle HC SOA Adapter solution with Perficient's Eric Roch @eroch2 about automating migrations from legacy HL7 platforms to Fusion Middleware.  I'm looking forward to more thought leadership about both these subjects in the coming months from Perficient.
These solutions are innovating and these organizations are movers and shakers and I couldn't be more excited about working with Oracle Healthcare solutions in the coming year!
Follow me on Twitter @teriemc