This is the third installment in our series on IBM Cloud Paks. Read the first post and the second post.
With IBM's acquisition of Red Hat last summer, there has been a monumental shift underway at Big Blue. IBM is working rapidly to modernize products up and down its software portfolio. Some of the biggest changes have been in the Workflow (BPM) and Content (ECM) spaces, now collectively dubbed Digital Automation.
The new IBM Cloud Pak model is, at its core, a new way of bundling and buying IBM software. In this model, you can trade up your existing parts and keep all your current bundled entitlements (combining several products to a single part number in many cases) and gain access to new bundled entitlement for Red Hat OpenShift. In addition, there are certain new capabilities and features only available in the Cloud Pak licensing model, and this is especially important to note for the Automation space.
Cloud Pak for Automation includes the legacy core of the Automation platform:
FileNet Content Manager
Operational Decision Manager
Business Automation Workflow (the merged Case and BPM offering)
Datacap
Enterprise Records
Content Collector
It also includes several new capabilities, only available with the Cloud Pak:
Content Manager and Operational Decision Manager Kubernetes/OpenShift Deployment
Business Automation Content Analyzer
Automation Digital Worker
Automation Workstream Services
Business Automation Insight
Business Automation Studio
Business Automation Application Designer
These new capabilities enable new pathways for low-code application design and work management.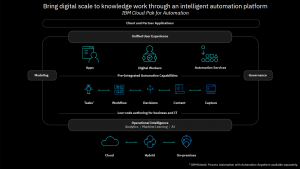 Introducing Digital Worker
Digital Worker is a new conceptual framework for automating work and a technical framework for integrating a variety of intelligent services to carry out those goals. You start at the business level, defining your real workers and their real job activities. From there, the technical teams can choose which tasks to try to automate. Digital Worker can hook into existing workflows (or any API) or automate new workflows from scratch.
For instance, Digital Worker can act as a member of a team in a BPM process application and try to process work assigned to that team in an automated way. It can do this using intelligent tools like Business Automation Content Analyzer to automatically extract data from documents, use any of the many Watson AI services to understand context, and use Operational Decision Manager to confirm that guardrails have not been violated. Once it finishes processing, it can either automatically process the work or release it back to the queue for manual intervention. The Digital Worker thus becomes another member of the team.
Machine learning in Business Automation Content Analyzer
Business Automation Content Analyzer (mentioned above) allows for quick and easy configuration-driven data extraction from documents. The built-in machine learning model is designed to take in an ontology that defines various document classifications and fields for key-value pair extraction. You can supply samples of each class to the model to enhance the classification training or you can train a new model from scratch. The browser-based interface is designed to allow an analyst to configure and test the models and ontologies. It is designed to run as a microservice. Documents are posted to a secure REST endpoint and results are returned asynchronously. This service is available to deploy anywhere as part of the Cloud Pak for Automation and as a stand-alone Cloud API.
New capability for non-technical users
Workstream Services is a new capability to allow non-technical users to design new process flows for simple tasks in a no-code way while enabling full governance of what is in production. It supports the concept of Checklist, Form, and Approval tasks within a workstream. Workstream definitions all have a lifecycle, from draft to test to published and finally, archived. An approval gate can be placed at the publish phase to allow only authorized users to publish new workstream definitions, allowing other users to simply make a publish request.
Imagine a business user who is trying to get a handle on their work. They receive hundreds of requests per week via email for updates to a primary inventory because the inventory system does not have native change control processes. Workstream would enable that user to define their own process, creating a form for people to complete and supply all the information required, an approval step for his manager, followed by a checklist to remind himself of the steps to complete the work. Because Workstreams provides this all in a no-code way, directly from Business Automation Navigator, this user can easily do it all himself, submit his work for review by the IT team to ensure it meets enterprise standards, and get it published to start him on a path to automation. Later, if called for, a Digital Worker can be created to help take more load off this worker's plate.
Benefits of these new capabilities
The big benefit of these new capabilities is that there is no need to leave behind your current investment to take advantage of new options. The new capabilities, where appropriate, integrate fully with the legacy core platform. Documents all live in FileNet with its robust and proven security models. Existing BPM and Case workloads will continue to be supported and can be enhanced with the new Digital Workers. Some of the legacy core can even be shifted to OpenShift or whatever certified Kubernetes platform you prefer, in your datacenter or the cloud or both. Part of this new flexibility is that Cloud Paks are licensed per Virtual Processor Core (VPC) – when you buy a Cloud Pak you get a pool of VPCs to allocate to the various components of the Pak, and as your needs change, you can transfer your entitlement dynamically.
IBM is working rapidly to enhance and improve these offerings and even we are struggling to keep up with their pace of change. This is both new and refreshing from IBM, but it does call for caution from our clients. Perficient's experience with IBM's legacy core products and as one of the first partners to bring a client live with the new Kubernetes support for FileNet Content Manager makes us the ideal partner to help you on your journey.
Visit our Cloud Pak resource page to learn more.