Find Your Sitecore and
Episerver 
Job on Perficient's Award-Winning Team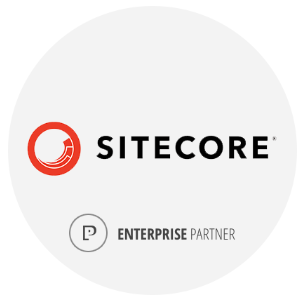 Why do people love working on the Sitecore and Episerver team at Perficient? If you ask our colleagues, you might hear words like "teamwork, trust, and fun."
Perficient has been partnering with Sitecore for more than a decade, and as a Platinum Sitecore partner, we are dedicated to both the partnership, the success of our clients, and the incredible team members that make up the Sitecore practice at Perficient. Our team is proud to have designed, implemented, and delivered many enterprise-level sites powered by Sitecore Experience Platform.
GO INSIDE: Perficient's Sitecore Practice
With this growing partnership, we are always seeking the top talent to add to our teams. Alongside other top Sitecore developers in the industry, you can help create impactful omnichannel experiences that transform everyday interactions into moments that matter.
BONUS: Sitecore Names Perficient a 2018 Experience Award Winner for Dignity Health Patient Experience Pathways
We are also a Gold Episerver partner ready to help our clients take control of the customer experience by unifying content, commerce, and digital marketing in one rich, modular, powerful intelligence platform. Our team of more than 40 skilled developers deliver the solutions to drive brands and seamlessly combine campaigns, content, and commerce.
GO INSIDE: Perficient's Episerver Practice
If Episerver is your platform, get ready to find your best job ever at Perficient.
BONUS: Read our Episerver blog
What Does the Sitecore and Episerver Team Do?
We blend strategic imagination with our more than 80 certified and highly experienced Sitecore developers. The full team is composed of developers, architects, and technical consultants who all work together to craft creative and technologically advanced solutions.
In fact, our Sitecore group has 12 MVPs who are recognized for their global contributions to the platform and the community.
BONUS: Learn more about the Twelve Perficient Colleagues Recognized as Sitecore MVPs
But what does their day-to-day look like?
Eric Sanner, Lead Technical Consultant, compares his daily tasks to a game of chess:
"I like to think of my project as a giant game of chess. As a development lead, I have an overview of the game and help move the pieces around the board. To make the right moves, I meet with individual contributors to review their code, get detailed code walk-throughs, give suggestions and guidance, and review pull requests. I also find time to make my own contributions to completing work items and reach out to others to review my code with them."
Whether it is strategically moving pieces around the board or working on a site build, the Perficient team is always looking for the best solutions.
GO INSIDE: See what our Sitecore experts say on our Sitecore blog
Finding Satisfaction Through Hard Work
No matter what position you play on the team, everyone works hard. The Sitecore group has team members across the country working on a variety of solutions for Fortune 500 companies. With a consistent workload, the team knows buckling down and working hard are necessities of the job. However, with skilled colleagues and leadership that supports your work and growth, the work brings meaning and satisfaction along with it.
https://www.instagram.com/p/B4k4WEUD6L3/
BONUS: Attending conferences like Sitecore Symposium adds another training opportunity
Another perk of Perficient is that, since not all employees work in a Perficient office, our remote work policy and effective communication allow for productive teams. Jim Petillo, Technical Consultant and Sitecore Ambassador MVP explains how his teammates from across the country don't just show up, they really put in the work:
"I appreciate that everyone I work with is mature, responsible, and accountable. This may not sound like a lot, but working remotely takes a certain level of discipline that not many people have. It's more than just showing up, it's being present and doing what you say you are going to do. I respect that people on our team are available. They make time to answer questions and help me understand why something was built a certain way so that I can better explain it to a client, or train them on how to use what we've built."
GO INSIDE: Experiencing the New Sitecore Developer Certification Exam (MVC)
Have Fun on the Sitecore and Episerver Team
In addition to company-provided tools for career growth, work-life balance, and opportunities for personal development, the Sitecore team at Perficient knows there is more to the job than just systematically completing tasks.
Even though the practice is hardworking and always delivering beautiful sites to clients, the team is also "friendly, fun-loving, and respectful," as described by Rick Bauer, Strategy Solutions Architect, and Sitecore Strategy MVP. "Whether in an office like Atlanta or working remotely, I always feel propped up by my coworkers and like to think to do the same for them."
What's more, many Perficient team members even hang out after hours. Courtney Dean, Senior Technical Consultant, explains:
"The culture at Perficient really allows you to become friends with the people you work with. I attend a weekly trivia night, with a mostly Perficient group, we have fun and even sometimes win."
Whether it be working with a smart, collaborative team, or maybe winning a trivia night with colleagues, the Sitecore practice at Perficient understands the importance of balancing work and life together.
Are You Ready to Join the Sitecore and Episerver Team at Perficient?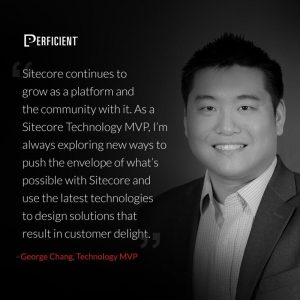 We have open positions for various levels of Sitecore and Episerver developers. Across the company, it is clear that you must be willing to be a team player that works together to find the best client solutions and, at the same time, trust that your teammates are doing the same.
If you're interested in a job where teamwork and trust go hand in hand with working on the top clients across several industries, Perficient is the place for you.
BONUS: Perficient Recognized with Episerver B2B Commerce Specialization
Technology is at our core, and when fused with a team of talented content strategists, visual designers, and experience architects, we deliver on the complete vision and bring magical experiences to life.
So, are you ready to join the Sitecore and Episerver team? 
View all of our open positions and make sure to check back frequently for new openings.
We also invite you to sign up for our blogs to stay connected.
---
READY TO GROW YOUR SITECORE AND EPISERVER CAREER?
At Perficient, we continually look for ways to champion and challenge our talented workforce with interesting projects for high-profile clients, encourage personal and professional growth through training and mentoring, and celebrate our people-oriented culture and the innovative ways they serve Perficient and the community.
Learn more about what it's like to work at Perficient at our Careers page. 
Go inside Life at Perficient and connect with us on LinkedIn, YouTube, Twitter, and Instagram.