Lynn is one of those captivating people who embraces life with full enthusiasm and determination to conquer every challenge head-on. At Perficient, this powerhouse found a place she's proud to call home.
"When you look at the names on our clientele list — I mean, all of the names — they're recognized brands that anybody would be so proud to be part of. To be able to look at a website and say, 'You know, my hands touched that in some way,' it just makes me beam with pride."
Meet Lynn Brading, Director of Digital Experience Alliances
Lynn Brading comes from a decades-long background in partner management and channel alliance that touches marketing, sales, and everything in between.
In June of 2015, she made her way to Perficient as Adobe Alliance Manager. Since then, her career has evolved into a director role at Perficient Digital where she manages a team of alliance managers who support our digital experience partnerships. Perficient's alliance teams play the critical role in making sure we are connected, collaborative, and working in full concert with our partners.
As an Adobe Platinum Partner, Perficient's fast-growing Adobe practice is rooted in a strategic partnership that has resulted in more than 200% growth year-over-year. Perficient delivers end-to-end, integrated marketing platform solutions to help our clients fully realize the value of their Adobe investment.
Perficient Career Highlights: Her Colleagues
Lynn credits the organic growth of the Adobe practice to the talented team serving those solutions.
"They are literally the hardest-working group of people I've ever worked with in my life, and our tremendous growth is the outcome. I think of the initiative that we take to grow the practice, to get the certifications, to get the specializations, to become an Adobe Platinum Partner…I just can't even describe in words how proud I am of the team."
Perficient Power Value: People
Citing her most impactful Perficient moments, Lynn is quick to draw her team into the conversation as both her motivation and inspiration:
"They amaze me every day with not just the quality of work, but the willingness to roll up their sleeves and burn the midnight oil if needed. And it's not us asking them to do it; they just do it because they know it needs to be done. It's just amazing; the work ethic is incredible."
Lynn isn't the only one who recognizes that people are the foundation of Perficient's success. People are one of the values that drive Perficient forward. This includes our partners, our clients, our colleagues, and our community.
Here, Lynn reminds us to take a moment to appreciate our team and that being generous with gratitude never hurt anyone.
Becoming an Alliance Leader
There is no clearly marked road to career success, especially for those specializing in alliance management, which touches many areas of an organization and represents some of the company's most important relationships. So how does one get there? Lynn explains.
Find Support From Your Team
Taking the next step in your career to become a leader can be a daunting challenge. Luckily, as Lynn moved up the ranks at Perficient, she was surrounded by capable and supportive colleagues. When everyone works towards the same goal, the time to execute becomes shorter and smoother, resulting in innovations and efficiencies for all.
When asked what aided in her growth, she humbly replied, "The amazing support that I get. I don't know that I ever felt it anywhere else, but here, everyone listens to you and values your opinion. The value and respect is there even if your way is different than the way they were thinking of doing something. The immense support that I've had is simply incredible."
Executive Alignment Is a Must-Have
Lynn also credits executive alignment as critical, and something she's thankful she fully has at Perficient.
"As an alliance manager, you can't own that partnership without the level above you and the level above them and the level above them all committing to this partnership," she explains. "I'm happy we have that with Perficient. With our close relationships with our partners and practices, that personal investment from top-down is something that demonstrates integrity."
An Unexpected Form of Support — Just in Time
The path to success isn't a straight road for anyone. It is full of twists and turns, some up and some down, but it is extremely important to remember a career is a journey, unique to each individual. While Lynn bravely shares her path with us, she reminds us it's not always the tasks at hand. Sometimes it's bigger than that.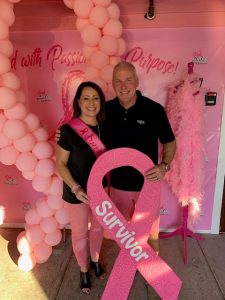 "In June of this year I was diagnosed with breast cancer. It, of course, came as a shock. Amidst my treatment, I was promoted, which in hindsight was a blessing because it kept my mind occupied. The silver lining of the diagnosis was the outpouring of love that I received from family, friends and colleagues."
Remembering we are all in this together, working towards the same goal, and here to support each other through the highs and lows of whatever life, work, or the unknown presents is a foundational lesson we learn from Lynn's Perficient growth story.
Seven Leadership Lessons Learned at Perficient
Demonstrating leadership comes in many forms.
As Perficient colleagues, we fill many roles for our clients, partners, and each other: some days as consultants, others as mentors, always as friends.
Skills that enable Lynn's fluidity are her resourcefulness, her determination, and her passion, many of which she recognizes in others, too. "I see examples of leadership all the time, either in getting a project finished or asking the right questions. Or, also important, reaching out for help."
Here are some other important lessons to learn when growing your career with Perficient.
1. Take a Breath; Patience Is Key
Lynn recommends having patience with not just yourself, but your team.
"The first 90 days of any new job are just trying to feel your way around and feel like you know where things are, like moving to a new city."
2. Grow Your Network and Build Relationships
Success at any organization starts by determining your stakeholders and building relationships within the company.
While we're not the biggest organization, we're also not the smallest. Coming in (especially from a small or boutique firm) can feel overwhelming. Find people you can trust in different roles across the organization to help reduce that stress."
3. Fast-track Success by Asking for Help
At Perficient, asking for help is a sign of strength, not weakness.
In fact, collaboration is another major ingredient in Perficient recipe for growth success. "A leader is only as good as their willingness to ask for help from people," Lynn confirms.
BONUS: See Perficient colleagues share their tips for using questions to get ahead
4. Emulate Great Leadership and Make It Your Own
"I am surrounded by great examples of leaders all the time," explains Lynn. "Ed [Hoffman] is an amazing leader of our practice. If there are fifteen people in the room, he'll make sure to find a way to recognize every single person with some great things about them. That's such a great thing I'd like to emulate as I build up my reports by giving them accolades."
5. Delegation: Tough, but Necessary
"Moving into my new role it's been challenging trying to let go of stuff," she admits. "Each partner is a little different, and the magic happens when you really dig in and commit. Now that I have a team of alliances underneath me, I'm trying to let go and let them grow."
How to Delegate
To approach delegation, Lynn offers the following advice:
Above all else, start. "It starts with forcing yourself pull back."
Failures happen. "If somebody fails that's okay, because that's how they learn."
Keep an open mind. "If someone does it differently than I would have done it, maybe it's a chance for me to learn that things don't always have to be done the way that I think that they should be done."
6. Positivity Pays Off
Lynn is known for her radiant positive energy, as anyone lucky enough to have a conversation with her will concur.
While this makes her an enjoyable person to be around, that enthusiasm is actually a vital inspiration for motivating her team. "I tend to be a pretty positive person and I think a lot of people feed off that energy. We're sitting here for a reason."
She credits her sparkle to a reflection of what she receives from her team, sharing that "we are there to support each other."
7. Deal With Challenges Like a Champ
With growth, change isn't far behind and with great success inevitably comes great challenges.
That said, it is how one acts in the face of adversity that determines character. Lynn recommends looking at problems from all angles; sometimes solutions reveal themselves via different perspectives.
"I feel like any challenge that comes my way is just an opportunity to find a growth in a different way. Honestly, at Perficient there isn't anything that's gotten in my way or the Adobe practice's way," she says with earnest.
Learning Doesn't Stop with Leadership
"The True Meaning of Teamwork"
Since joining Perficient, Lynn acknowledges she finally understands the true meaning of teamwork.
She unfolds her leadership evolution more. "I knew how to work the Adobe side of the house, but learning to work with this side of the business was new. We have a great leadership team within the Adobe practice, and now I've been able to connect with the different leaders across the organization.
"Being part of that senior leadership team now has opened my eyes wide. I felt like I lived in this Adobe bubble for so long; now I'm able to see how we truly can give a client an end-to-end digital experience every step of the way with digital marketing, commerce, Adobe, and then strategic expertise on top. Just listening to all the valuable and smart people here has opened my eyes to understanding the business so much better."
Be An Active Learner
Grow Your Partner Education
To grow your education about Perficient's partners, Lynn offers some practical advice. She says to make a point to be involved with the different partnerships. Communicate with internal teams and sign up for either their weekly or monthly emails.
Add Valuable Insights by Seeking Relevant Education
Education doesn't stop at graduation. At Perficient, you're expected to be a life-long learner. When those educational opportunities arise, sharing them with your leadership shows you are interested, dedicated, and continuing to find new ways to bring value to Perficient.
"I'm actually attending my first alliance leadership conference soon. I have no idea what to expect, because the thing about alliances is that everyone does it differently," she divulges. "I'm excited to go to this conference and learn best practices and bring them back to Perficient."
Continuing to Grow as a Leader
Find Confidence in Your Work
One thing that keeps Lynn engaged is the shared belief that work should make you feel empowered and proud.
"Perficient has given me the confidence to really feel empowered in my position. To feel like my opinions are valued. My ideas are valued. My work is valued. It's been a very big confidence boost working here. It still feels good to feel that confidence boost that you get from a position, or from your superiors, peers, or people that roll up to you. I think there isn't anyone who doesn't appreciate positive feedback and feeling of being told 'job well done'."
Embrace the Changes — They're Inevitable
When you come across the unavoidable bends in the road, the key is not to fear those looming changes, but embrace them.
"When changes happen, sometimes they bring a struggle to figure out what is coming next — especially in an industry like ours where everything is constantly changing. With change, there is the challenge and fear of the unknown. But at Perficient, you're surrounded by people you trust, so you can embrace that change and make it your own."
Lynn warns to not give up when changes hold you back. "There are no mistakes; there are opportunities to learn more. With change you have to do the same thing; you just have to embrace it and know that it's going to be for something bigger in the future."
Lessons Can Come From Mistakes
These are life lessons Lynn is excited to pass onto her children. She proudly shares about her oldest, son Zak, an operations manager for a delivery company who is getting married in May, and of her daughter, Bailey, soon graduating from Ohio State with a degree in hospitality management, focusing on event planning.
"With two children at that phase where they're just getting into their careers, it's tempting for my husband and I to provide that safety net, but we all know despite the bruises that come with falling down, those are lessons left imprinted on our limbs and in our minds. That's how they figure it out. That's where you get your strength, from your mistakes."
The Biggest Lesson of All
Naturally, Lynn's journey is not all work. Her husband Todd, a pharmaceutical rep, and their family split time between Ohio and eastern Tennessee, where they are avid boaters and love lake life with their two labs, Darbee and Jozee, and grandpuppy, Graham.
It's times like this — and the Saturdays planned around Buckeye football, of course — that inspire Lynn to offer her final advice for career fulfillment.
Growth Is a Never-Ending Process, so Don't Rush It
As we move forward in this fast-paced, digital world, sometimes the biggest lessons are the simplest. When asked what growth advice she would give her younger self, Lynn thoughtfully delivers a foundational lesson everyone can use: slow down.
"Don't be in such a hurry to get a title or a promotion or going for the money. Take the time to learn what you're doing and really appreciate the people around you that are helping you in that position. Don't be in such a rush. I was always in such a rush to get to the next thing, but once you're there, you still want more. Enjoy the journey and learn from everything along the way."
Have Faith in Your Journey, and Yourself
By leaning into her journey, Lynn has awoken her greater purpose. "I'm a big spiritual person and I've worked in a lot of different industries. What I've learned is that everything leads you to where you're supposed to be. Have faith in your journey."
As Lynn imparts her wisdom and honorably shares her experience building her career at Perficient, we are all reminded that we have a unique gift to offer the world. By having faith in her journey, activating her team, and celebrating success at all levels, Lynn is truly a Perficient leader.
She sums it up best herself: "Life is all about living in the moment, learning from our past, and preparing for the future."
With that mindset, it's no surprise Lynn continues to grow both in her personal life, and certainly within Perficient.
---
Perficient continually looks for ways to champion and challenge our workforce, encourage personal and professional growth, and celebrate the unique culture created by the ambitious, brilliant, people-oriented team we have cultivated. These are their stories.
Learn more about what it's like to work at Perficient at our Careers page.
Follow our Life at Perficient blog on Twitter via @PerficientLife.
Connect with us on LinkedIn here.