Oracle's commitment to rapidly expanding Enterprise Data Management Cloud Service (EDMCS) features can be seen in the latest updates to the SaaS offering. The enhancements outlined below represent a significant advancement in EDMCS's ability to simplify dimension and hierarchy administration facing many organizations today.
Subscriptions
Systematically applying dimension alignment across target systems is a goal of any dimension management system. Since the initial release, EDMCS has provided this capability. EDMCS's use of views provides the ability to compare and align across viewpoints, but it's been dependent on the user to manually perform those alignments. To address this, EDMCS now offers the option to configure Subscriptions between viewpoints.
Subscriptions enable sharing nodes between source and target viewpoints. An update made to the source viewpoint automatically generates a request to apply the change in the target viewpoint. For example, when a node is added in the general ledger viewpoint (such as adding a new account), EDMCS automatically generates a request to add that node to the Planning and Budgeting Cloud Service account viewpoint. Additionally, the subscribing viewpoint can be configured to auto-submit the request (if the request passes validations) or require an assigned user to review and submit. Last, but not least, EDMCS can send email notifications to users assigned to the subscribing viewpoints. Subscriptions represent a significant advancement in the maturation of EDMCS. Not only does the feature improve dimension alignment efforts, but also lays the framework for advanced governance capabilities!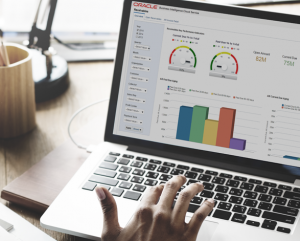 Explore key considerations, integrating the cloud with legacy applications and challenges of current cloud implementations.
Inheritance
It was quite surprising (and a bit disappointing) to see property inheritance functionality missing from EDMCS when first released. However, property values of parent nodes are now inheritable by descendant nodes. Inheritance significantly reduces the manual effort of maintaining properties and ensures consistency. And yes, inherited values can be overridden at a lower level to handle exceptions.
Please note that there are some caveats. Inheritance works only for nodes in a given hierarchy node set and is not enabled for existing applications with Oracle Planning and Budgeting Cloud, Oracle Enterprise Planning and Budgeting Cloud, or Oracle Financials Cloud General Ledger applications. Even with these restrictions, the inheritance function greatly simplifies property management for customers.
Oracle Financials Cloud GL Adapter
Did you catch our the enhancement in the previous paragraph? Oracle Financials Cloud GL is now a supported out-of-box application! The application adapter provides the following:
Registration of Segments and Trees using a new application type
General Ledger properties and validations
Import of segment values and tree versions
Export segment values and tree versions to Financials Cloud
Managing dimensions within ERP to EPM integrations is a challenge for many organizations. EDMCS alleviates that headache and streamlines this integration with the new adapter.
These are just a few of the latest enhancements to EDMCS. Many more exist and are coming. Feel free to contact us for more information!