In the past 12 months, Artificial Intelligence has gone from a future technology that has the potential to be revolutionary to a must have to remain competitive. From August 2022 to August 2023, "How to use AI" has skyrocketed on Google Trends by 507% with many leading innovators believing that this is the next internet boom. With the proliferation of AI disrupting every industry, AI adoption is vital for organizations that wish to remain viable and competitive. The question we hear, though, is "how and where?"
This week, the Perficient Team headed to New York City with our Partners at Writer, the generative AI platform for enterprises. We met with Fortune 100 organizations to converse around AI and help begin to answer the question of "How and Where?" As pioneers in the space, our goal as partners is to work with clients to find quick and easy ways to begin implementing AI, and while we recognize most organizations are not NYC local, we are excited to share our key insights.
Generative AI Lessons Learned
Think transformational, not incremental
It's important to get buy in early- begin to introduce AI with use cases that matter most to leadership. By making the first use cases transformational, not incremental, AI implementation will be adopted more readily and the value in the technology will be recognized.
Get out of the sandbox and solve real problems
For the solutions to have impact, the problems can't be abstract. Move beyond proof-of-concepts to build real applications at scale with actual end users. While there are many hypothetical use cases of ways AI could be applied, leadership buy in is vital and showing real business and/or customer outcomes emphasizes the value and will help you move quicker.
Think cross-functionally
…but don't get lost in Center of Excellence land. A cross-functional approach is needed, but avoid getting bogged down in CoEs.
Don't rebuild the wheel in the quest to gain skills
Many organizations believe that fully custom technology is needed. By focusing on applying platforms that can fit your business needs versus rebuilding them from scratch, you can gain AI skills and benefits with speed and efficiency.
Identify all the business impact
Identify concrete ROI – Cost savings, incremental revenue, reduced legal and compliance risks. AI can impact many key metrics, and showing the holistic impact increases organizational adoption.
Adoption matters
While it's important to get executive buy-in, the purpose of an AI implementation is to have real outcomes. Real outcomes require genuine end-user adoption.
Trends and Implications
The pace of change is accelerating: We are entering an era of mass innovation, which is driving constant change. For organizations to stay innovative and competitive, they must begin to adopt new technology.
AI is accessible to everyone: User expectations are being influenced by their experiences with Generative AI agents like ChatGPT, Bing and Bard.
 Workers are adapting: 61% of US workers are either using or planning to use Generative AI to help them with their jobs.
The hype is peaking: We are reaching the height of expectations for Generative AI.
…but commercial adoption is lacking: Most organizations aren't leveraging Generative AI as much as they would like.
Computing resources are in high demand: Within the next 5 years, processing workloads are expected to increase by 50 times.
Operationalizing Generative AI
As organizations embark on their journey, they need a holistic approach to operationalizing Generative AI. Perficient's P.A.C.E. framework offers a comprehensive strategy:
Policies: Establishing corporate guidelines and boundaries for acceptable AI usage as new solutions emerge.
Advocacy: Promoting the understanding and adoption of AI through continuous education and collaboration.
Controls: Implementing the necessary oversight, auditing, and risk management of AI systems and their usage.
Enablement: Providing the tools, resources, and support systems that facilitate responsible usage of AI systems.
The Emerging Technology Stack
Success in Generative AI demands a scalable architecture beyond just Large Language Models.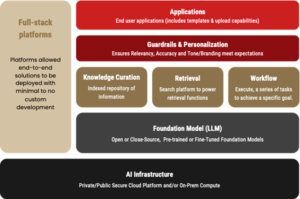 How Top Organizations are Utilizing Generative AI
To offer a practical perspective, here's how various organizations are employing Writer:
F50 Telecom Provider: Generates summaries, conversation starters, and next steps to aid customer service agents and executives in their interactions with customers.
F50 Investment Bank: Produces personalized insights and conversation starters for senior bankers to engage with their clients and CEOs.
F10 Healthcare Company: Personalizes instructions and information for patients based on their prescription, health considerations, and age.
F100 Retail Bank: Generates responses to common questions and crafts personalized client communications for financial services salespeople.
F100 Retailer: Analyzes influencer videos, extracting insights like pain points and expectations for market research and R&D.
Begin today with CX AI
Delaying an investment in AI could put you at risk of being out-innovated by your competitors. But you don't have to start big. Our CX AI jumpstart helps you quickly identify opportunities for leveraging generative AI, demonstrate the value through technical proof of concept, and define the path forward to realizing your vision. Interested in a deeper dive?  Learn more about how our team can help you begin your AI journey today!