When considering a customer's purchase experience, how many things could possibly go wrong? In truth, there are endless possibilities. On the other hand, how many simple things can you implement to ensure a positive customer experience?
In my previous blog articles, I discussed Perficient's "Now, New, and Next" framework. Today, I'll share different tactics, features, services, and functionalities of the customer experience using this framework. These tactics will help increase conversion rates, reduce abandoned carts, and increase the total customer lifetime value and experience.
"NOW" EXPERIENCES
One tactic that you must have as a successful online business are multiple payment service options. Websites like Allbirds do this extremely well with their multi-payment gateways. For example,  Allbirds offers payment via credit/debit card, but they also allow payment via PayPal, Amazon Pay, and ShopPay. Many mom-and-pop businesses don't offer any alternative to cash or credit/debit cards, which immediately sets them behind their competition.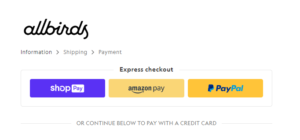 Also, nearly all customers expect to have easy order tracking with timely communication that remains on brand. In fact, 88% of consumers say the ability to track shipments in real-time is important. Shopify utilizes email communication that integrates order confirmation, pick up, and in-delivery communication. That way, you can rest assured that your customers will be satisfied throughout.
Email communication with consistent order details may seem simple. However, if a business or organization doesn't have reliable and consistent email communication, customers will likely experience frustration. It decreases conversion rate, increases abandoned carts, and increases customer call volumes.
"NEW" EXPERIENCES
"New" experiences are always evolving and transforming into "Now" experiences as more and more companies adopt them. Currently, there are many "New" experiences you can adopt to help keep your business relevant. For example, Love Wellness specializes in personal care products. They offer experiences like subscriptions with auto-renewals and delivery of replenishable products with reoccurring billing and installment payments.
You can also utilize services like Affirm and Afterpay to offer a "Buy Now, Pay Later" option.
Organizations that apply these features see higher customer lifetime value, total order increases, and higher loyalty. While some customers have still not yet encountered these experiences, the novelty will eventually become ubiquitous in the market. Customers will soon expect them as table stakes. Implementing them now ensures your business stays ahead.
"NEXT" EXPERIENCES
Both "Now" and "New" pale in comparison to "Next" experiences. These experiences surprise and delight customers with early adoption.
One example of "Next" is Tesla, which offers a showroom to browse vehicles instead of a dealership. While in the showroom, you can select options for trim and accessories. You can also place your order right there to avoiding the hassle of waiting in a dealership. Then, your vehicle is delivered safely right to your door.
Another example of a "Next" feature is Amazon's Key In-Garage delivery system. With this feature, you can choose "Key Delivery" at checkout, and receive the items in your garage. You'll connect a smart garage door opener, like those made by Chamberlain, to your garage door. This allows the delivery driver to securely store your packages to avoid bad weather or even porch theft. You can even watch the deliveries with an optional camera and choose when you want to use it.
Whole Foods provides another example of "Next" features with their Pay by Palm technology. This allows customers to pay with a scan of their palm, without the need for a wallet, phone, or smartwatch. Pay by Palm allows customers to pay for items faster, resulting in a simpler shopping experience for all customers.
Key Takeaways
While these capabilities are setting brands apart from the rest, it's not without risks. These innovations and "Next" items could hit at the wrong time. Examples include the electric car in the 90s, or Pay by Palm starting its implementation during a pandemic.
Perficient is uniquely positioned to serve our consumers that need assistance in these areas. We drove wonderful customer loyalty statistics versus customer disappointment with clients like Joanne Fabric and Sally Beauty. Our experts will partner with you to understand your specific business needs and goals. They'll help you develop a roadmap to change your company's trajectory.  For more questions, contact our experts today.