Amazon Connect now offers a preview of Forecasting, Capacity Planning, and Scheduling capabilities directly from the Amazon Connect console. This is a significant step forward since Amazon Connect already offers integrations with the leading WFM providers. However, with these out-of-the-box features based on machine learning, Amazon now allows its customers to safely predict their future contact center volume and average handle time without utilizing any third-party tool.
In this blog post, I will describe in more detail how I set up Forecasting, Capacity Planning, and Scheduling.
Forecasting in Amazon Connect
Predict your contact center call volume and average handling time with high accuracy
The first thing you need to ensure is that you have the proper permissions to view and access the forecasting features in case you are not set up as an Admin in your Amazon Connect instance. Under Security Profiles for your role, make sure the Scheduling and Agent Application permissions are as follows: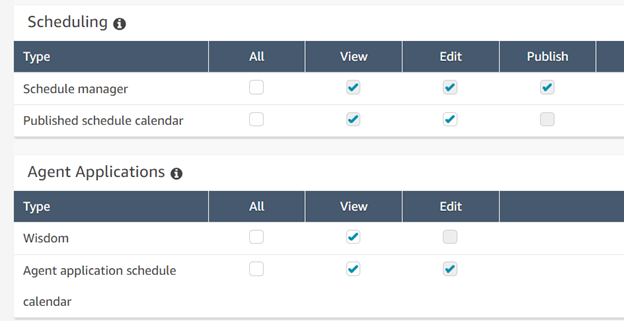 Once this is done, you can navigate to the Forecasting page. Testing this new feature is highly recommended in a production environment as it won't cause any issues, and you won't need to worry about importing any dummy data. In my case, I had to import dummy data for the past year to ensure there was enough data to successfully calculate long-term and short-term forecasts.
If you have to use dummy data, you need to upload it in .csv format using the following two intervals:
15-minute or 30-minute intervals to generate the short-term forecast, and
daily intervals to generate the long-term forecast.
Along with proper data, you also need to create at least one forecast group that has at least one queue. If there isn't enough contact volume in a single queue, selecting multiple queues is recommended, and optionally separating them into different forecast groups is recommended.
Once you click the Create Forecast button, you will need to wait between a couple of hours to a full day for the system to calculate the short-term data and about a week to generate the long-term data. This is because short-term data is generated daily, while long-term data is generated weekly.
Below is an example of the long-term forecast for our contact volume for the next 18 months. It is great that you can filter by queue or channel and select the desired time frame.
Learn the six most common pitfalls when upgrading your contact center, and how Amazon Connect can help you avoid them.
Once you are satisfied with the forecast, you need to publish it to use it for Capacity Planning and Scheduling.
Capacity Planning in Amazon Connect
With Capacity Planning, estimate how many full-time equivalent (FTE) employees are required
Using a long-term contact volume forecast, you can estimate how many agents you need to hire for the next 12 months. To start, you need to create an input scenario where you specify max occupancy, overtime, work hours, attrition rates, in-office and out-of-office shrinkage, and time off for all your FTE employees. Your input will help the tool predict more accurately your future staffing needs.
After you create a scenario, you are ready to generate your capacity plan for the desired time frame. The screenshot below tells exactly how many FTE agents my contact center requires each week based on the estimated contact volume. The system can also warn if there is a need for more FTE employees for a specific time frame, or vice versa, when you have more FTE employees than might be needed. Based on the prediction, FTE agents can plan their vacations accordingly. It's amazing how this simple feature can help supervisors and agents with proper planning.
Scheduling in Amazon Connect
Ensure you have enough FTE agents in the shifts to support customer contacts
With Scheduling, you can also create interval schedules for your FTE employees according to the future number of contacts predicted by the ML algorithm. With Staff Rules, you enter specific information about each agent's working hours, start date and end date, and time off.
With Staffing Groups, the agents and supervisors are grouped into shifts; this is how you ensure you have properly skilled agents available at the right time of the day. Shift Profiles help determine start and end times for your daily contact center operation based on how the system divides agents into groups and shifts.
With Shift Activities, it is simple to determine what is allowed and expected from employees during their shifts. In my example, lunch and breaks are set up at the exact time of the day for each employee, so this time can also be included in the calculation when making the schedule, as no contacts are expected for those agents at that time.
Now when all is set, we are ready to generate our schedules based on the short-term forecast and it looks similar to the below screenshot:
When supervisors are satisfied with the schedule, they can easily publish it and make it available to their agents.
And this is it, as simple as that! I am impressed by how easy it is to start planning your future contact center volume and staffing without spending additional money on custom integrations. It is flexible to set up and allows supervisors to create capacity plans and schedules with high efficiency, even when the agents have many unique schedule requirements. Considering this feature is safe to be used in production instances, I can't wait to see when it becomes publicly available, knowing how beneficial it will be for Amazon Connect customers.
If you're interested in maximizing your contact center's efficiency, we can help. At Perficient, we are an APN Advanced Consulting Partner for Amazon Connect, giving us a unique set of skills to accelerate your cloud, agent, and customer experience.
Perficient takes pride in our personal approach to the customer journey, where we help enterprise clients transform and modernize their contact center and CRM experience with platforms like Amazon Connect, ServiceNow, and more.
Please contact us here for more information on how Perficient can help you get the most out of Amazon Connect.