We've all been there…our organization has decided to implement a new technology and we've been tapped to ensure it's success. After the feelings of anxious excitement subside, the first question that typically pops into our head "where do I start?" Official (and many times expensive) training is typically a person's first thought, along with reading available documentation online (if the vendor provides it online). While these options are extremely beneficial, sometimes it's still a challenge for users to filter their education down to the basics in order to reap the benefits of the solution from day 1.
Luckily, for Enterprise Data Management (EDM) customers Oracle has recently released several checklists to help users of all roles to do just that! Whether the person is an Admin, a data owner, or even an Auditor, these checklists provide a path to success for all EDM user types.
Clicking on the hyperlinks opens each individual checklist. The checklists have detailed step-by-step explanations of tasks for users. Within the checklists are additional links which redirect users to documentation, videos, etc. An example of the "Administer Enterprise Data Management Cloud" checklist is presented below.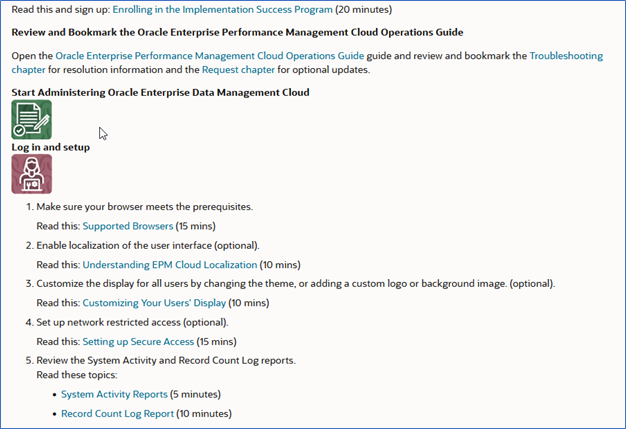 The checklists even take it to the next step by providing information on where to find more about EDM, such as online user communities and Oracle user groups.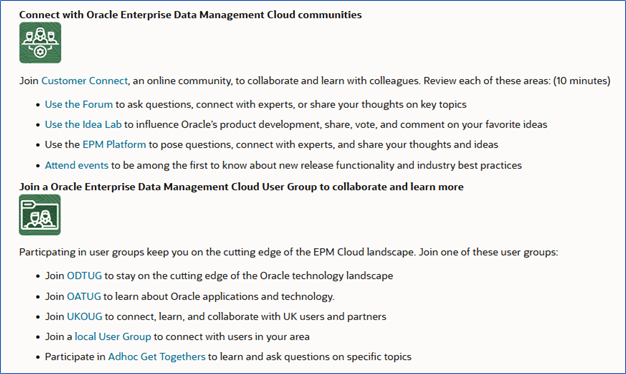 These checklists are very informative. So much so that they have something to offer for every user, regardless of level of expertise. We highly recommended that experienced customers take advantage of them as well!