Implementing a new ERP system will require you to re-evaluate your banking relationships, system capabilities, and review best practices. You may encounter challenges in planning and coordinating required new payment development and project coordination with your relationship banks. Thankfully Kyriba can help you solve these problems. Let's take a look at what a traditional ERP banking project entails, and then I'll explain how Kyriba and drastically accelerate and simplify your solution.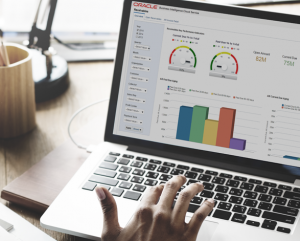 Explore key considerations, integrating the cloud with legacy applications and challenges of current cloud implementations.

First: Understand Your Banking Landscape
As a Treasury group planning the requirements, development, and testing plan for your business' ERP project, you should understand and document your banking landscape, including directional cash flows. How and with whom you work with in your banking relationships, where your depository and disbursement accounts are located, your account structure, ZBA Sweep Accounts, and how you record the transactions in your general ledger.

Prepare a complete listing of all your accounts that you will be maintaining in your ERP. Save Costs by ELIMINATING under-utilized accounts!

Second: All Bank Connections need to be rebuilt and tested, payments re-developed.
Keep in mind that each Bank connection will need to be rebuilt for each ERP implementation, upgrade, or banking relationship change. Additionally, all payment templates must be individually developed and tested with each bank.

Third: Coordinate with Your Bank
During an ERP project, coordination of the development and testing phases is imperative to meet your project milestones and go-live dates. Getting to the right people – the implementation people (at the bank) – requires significant coordination. You don't get much of their attention, at least not necessarily when you want it. They may not meet your timeline, placing your project in jeopardy. They may even "forget" to promote your solution to their production environment. It's happened before, and it will happen again.


Keep in mind, you will have to work in your banks' time zone and require multiple testing cycles. Give your bank plenty of notice. Ask if they have any expertise in your particular ERP so they can perhaps provide pointers in advance.

Average timeline from development to ERP production is 3-6 months with an average of 3-4 payment templates per bank.

Development and testing per payment type can be costly and take a lot of time. Be sure to plan accordingly.

How to Accelerate and Simplify ERP Payments with Kyriba
With a quality payment network, like the Kyriba payments offering, you can eliminate the need to keep calling your IT group to update and test the payment formats and connectivity during a banking relationship change or ERP project. Adding an ERP and Bank agnostic connectivity solution with a payment template library of 45,000 global banking payment templates can save your organization time and expense.

Be sure to note the benefits that this could bring to the ERP experience in terms of banking relationship flexibility and savings of time and development expense against any additional subscription expense that a payment network. Incorporating Kyriba with your ERP project can reduce the cost, time, and risk to implement. Wouldn't it be nice to go live with turnkey solution!

Understand the options available to your business as well as the additional cost mitigations. Kyriba integrated with your ERP makes these projects more "plug and play," getting you straight to testing your bank files with your banks representing up to 80% ROI on implementation expense in relation to banking connectivity for both incoming and outgoing banking file integration.

Perficient is a Kyriba certified implementation partner. Want to Know more? Call us today!