Forrester has included Perficient in its Now Tech: Oracle Apps Implementation Services Providers, Q2 2020 report. The newly launched report lists implementation service providers who help global clients identify potential partners to support their shift to Oracle Cloud providing guidance through each stage of an enterprise cloud transformation.
Within the report, Forrester examined implementation service providers for their work with Oracle Cloud apps including ERP Cloud, EPM Cloud, and HCM Cloud as well as legacy-oriented apps like PeopleSoft and E-Business Suite. It segments each vendor by market presence and capabilities. The report names Perficient as a small (<$200 million in Oracle apps services revenue) consultancy with vertical market focus in energy, healthcare, and manufacturing. The report lists American Honda Finance Corporation, Merck, and Midcoast Energy, LLC as our sample customers and we believe our work with them showcases our expertise in Oracle.
Inclusion in this report is an honor and, in our opinion, highlights our vast expertise with the Oracle applications and our success in delivering strong results for our clients.
Benefits of a Partnering with a Proven Partner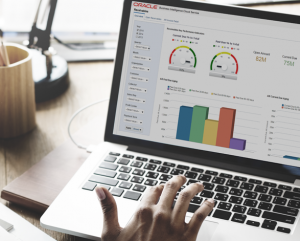 Explore key considerations, integrating the cloud with legacy applications and challenges of current cloud implementations.
In the report, Forrester notes that, "While Oracle continues to breathe new life into existing products, such as Oracle E-Business Suite and JD Edwards, future opportunities for Oracle customers are in Oracle Cloud Applications, also known as Fusion." According to the report, providers with a balanced portfolio between legacy and cloud "have strong existing on-premises capabilities while also moving customers to the cloud. These providers have capabilities straddling the old and the new in the Oracle apps portfolio."
In order to successfully transform core business operations, application development and delivery (AD&D) professionals are encouraged to look for Oracle applications services providers that can:
Accelerate the shift to the cloud and to modernizing applications
Foster innovation
Manage business disruption
With the right partner, you can accelerate your enterprise cloud transformation to achieve desired business goals.
Why Perficient?
Perficient is a National System Integrator with a dedicated Oracle practice for ERP, EPM, and Analytics/BI that has been serving clients for nearly two decades, delivering 3,000 cloud and on-premises implementations.  In addition, our life sciences practice specializes in the implementation, management, and support of Oracle Health Sciences applications. Unlike boutique firms that specialize in one or two offerings, our investment in and commitment to our Oracle partnership is extensive, with 15 Oracle specializations, which means Perficient is investing heavily in training and resources to stay ahead.
We have delivered strategy and full-lifecycle implementation projects, and upgrades & enhancements for on-premises, cloud, and hybrid solutions to meet the unique needs of our clients. Cloud delivery accelerators help you improve operational efficiency, while promoting cost efficiencies and reducing risk to help you maximize your investment.
We also offer a post-implementation managed service offering called SupportNet.