According to a recent study from the Harvard Business Review, 70% of companies surveyed report that over the past two years, digital transformation has become significantly more important to their overall success. However, only 20% of companies surveyed rate their company's digital transformation efforts as effective.
Why the disconnect?
"Digital transformation" is a loaded term that means something different from organization to organization. The short story is that it's not just a transformation of the IT department – it's a long-term strategy that requires you to implement lasting technological and cultural and procedural changes.
Here are a few steps to help you holistically envision your organization's digital transformation: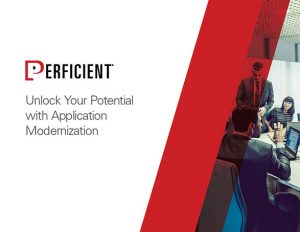 Application modernization is a growing area of focus for enterprises. If you're considering this path to cloud adoption, this guide explores considerations for the best approach – cloud native or legacy migration – and more.
Launching your IT modernization program
Take a phased approach that addresses your platforms, people, and processes.
Create a roadmap. Align your business goals and desired outcomes with systems, plans, and activities that add value throughout your digital transformation journey.
Understand where you want to go and what you will measure to show success – or failure.
Streamlining your digital platforms
Audit your current platforms. Understand why you use each platform or application and determine if you really need them. As you continue on your digital transformation journey, you will consolidate, remove, and add apps due to ever-changing business needs.
Look at how solutions impact your customers' experiences. If one touchpoint leaves a bad impression, you might lose that customer.
Keep communications consistent across departments to optimize the consistency of customer interactions across all channels.
Investing in your people
Don't put your money at risk. Prepare and equip your employees for a successful transition into a new way of operating. Up to 75% of a client's project ROI depends on employees actually using the system or process they implement as intended.
Get buy-in across teams. In order to have a successful digital transformation, your employees have to buy into and then adopt the changes.
Prioritize your employees' experience. Give your employees an experience that's not only going to make your organization better, but also present them with new challenges and growth opportunities.
How our partnership with Red Hat can help you
As a Red Hat Premier Partner and Red Hat Apex Partner, Perficient helps drive strategic digital transformation initiatives around cloud-native development, DevOps, and enterprise integration solutions to ensure successful application modernization and cloud implementations and migrations.
Red Hat's open technology and processes enable you to:
Gain access to the applications and environments you need to evolve
Rapidly provide new digital services to your customers
Leverage automation, hybrid cloud infrastructure, containers, and application development from one source
Innovate faster
Adopt DevOps strategies to improve the quality and speed of your projects
Make large-scale changes iteratively instead of all at once, adjusting as you go
Interested in learning more about Red Hat technologies and solutions? Read about its IT optimization solutions, cloud-native development capabilities, automation, and integration expertise.