2019 is the year to stop letting obstacles get in the way of enterprise AI adoption. Of course implementing AI tech comes with its challenges, but addressing two big obstacles may be the key to success.  According to our AI expert, practice director and chief strategist Christine Livingston, these obstacles are perception and data. And addressing these can help you find a more pragmatic approach to AI.
Livingston recently did a Q&A for AI Business where she discusses, among other things, these key obstacles and how to overcome them. Below is an excerpt from that article. You can read the full feature, Building Seamless Customer Experiences with AI, on the AI Business website.
What are the key obstacles to making AI work for global enterprises?
There are two big obstacles: perception and data. There's a perception that if an enterprise is going to implement AI it's going to be a tremendous undertaking that has to be applied in a really big way. There's also a sense that you have to do a lot of preliminary things in order to prepare to implement AI.
However, a lot of the time, we're seeing really effective implementations of AI that actually include filling in the gaps that enterprises need to be fully optimized for AI.
An example of this is when we worked with a retailer to create a personalized shopping advisor – a virtual agent that actually incorporated customer DNA and made personalized recommendations.
One of the things we found out through the course of that implementation was that they didn't actually have all of the necessary metadata about their products to make recommendations. So, we applied visual recognition to the images of their products to help create and generate the metadata they needed to make the larger term initiative work. There's an opportunity to apply AI to some of the smaller problems to help realize the larger transformation.
The other key obstacle is knowing where your data is and you have to be able to establish a ground truth. You can't have multiple versions of the truth. You need to know where your data is stored and what it means essentially.
A Pragmatic AI Approach
Instead of avoiding enterprise AI altogether, keep your road map grounded. Be realistic about your enterprise's capabilities, but don't overthink it. Often times, deficiencies can be addressed during the adoption process. And make efforts to strengthen your data environment. Even Forrester predicts that good old fashioned information architecture will see continued investments in 2019 in an effort to create AI-worthy data environments.
Finding a pragmatic approach to AI implementation may be the strategy you need for successful AI adoption in 2019. For more on this, find Christine Livingston at The AI Summit New York December 5-6 where she'll expand upon the pragmatic approach to implementing AI and speak to lessons learned, best practices, and tangible steps to adopting an AI solution.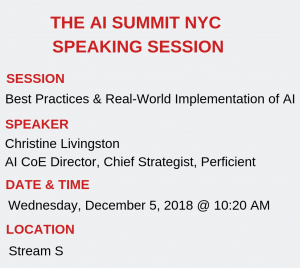 Connect with Us at The AI Summit New York
Make sure to connect with us at The AI Summit! Our experts will be at booth #617 discussing how we can help clients maximize your investment in AI tools.