One of the main topics that often surrounds the Office 365 Lync Online solution is how to provide the best Lync experience for end users. Since Lync Online is hosted in the cloud, Lync Online users rely heavily on their Internet connection for the majority of their experience.
There are a number of areas to prepare your network for the best Lync Online experience possible:
Calculate your Lync Online bandwidth estimated usage by using the Lync Bandwidth Calculator (Download)

Ensure your internet connection, network backbone, and WAN links have enough bandwidth capacity for the additional Lync Online traffic
Review current and past bandwidth usage trends

Implement Quality of Service (QoS) on your Local Area Network (LAN) Windows-based workstations
QoS allows you to prioritize traffic when your network is under heavy load and is applied on workstations by tagging packets with a Differentiated Services Code Point (DSCP / Diffserv) value. Your network equipment must be configured to handle these DSCP tags appropriately.
*Note – this article will not cover how to design or configure your network for QoS, you should work closely with your network team and/or vendor.
Traffic on the Internet is considered to be "best effort" and all packets are treated the same with no prioritization. Thus, QoS settings on your network do not carry over onto the Internet. This emphasizes the importance to prioritize as much traffic as possible when you have total control over the network. You may not be able to prioritize your Lync media traffic for the entire path to Office 365 but you can prioritize it right up to the point where it exits your network. (see graphic below)
















Peer-to-Peer (P2P) Lync media traffic between endpoints on your LAN will benefit the most, since QoS will be applied to the entire media path (see graphic below).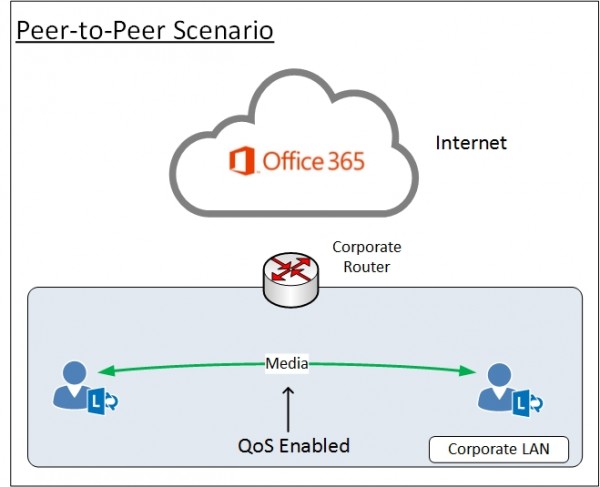 Lync Online meetings and multi-party conversations are hosted in the Office 365 infrastructure. All of the meeting participants and attendees will connect to Office 365 for media content. (see graphic below)
It is important to note that adding another contact to a P2P session escalates to a Lync Meeting.














The following Lync media types are the most susceptible to packet loss and jitter as they are real-time communications:
Audio calls
Video calls
Desktop Sharing sessions
Application Sharing sessions
File Transfers
I cover how to set QoS settings with Group Policy for Lync Online Audio, Video, File Transfer, Application Sharing, and Desktop Sharing traffic for Windows-based workstations in my next article.