So much is changing each day with Office 365 suite of services and applications, that it's hard to keep up. This post is an attempt to get you up to speed with the exciting new features on Yammer roadmap slated for this year.
Work Like a Network
If you are asking yourself what is this, then you certainly have a lot to catch up.  It's probably the single most exciting feature unifying multiple services in the Office 365 suite. So what's all the buzz about #Worklikeanetwork?
This is how Microsoft defines it:
It's not just what you know but also who you know that matters. Enterprise social should be woven into the way people already work, so that the power of human networks is available to help people get their jobs done—anywhere and on any device. It's also the way you stay communicated, stay in touch with friends, or find a job at enterprise, all about helping you being agile breaking down barriers across collaboration and communication channel.  To make all of this possible, Microsoft is building an integrated set of social, collaboration, and communication technologies that enable companies to work like a network!
I talk about this in our Yammer roadmap since I see this as one of the biggest recent breakthroughs in enterprise communications and probably the most important one on Yammer's roadmap this year. You can read about Office graph and Oslo on office blog and TechNet. My goal here is not to duplicate that information rather share my findings and experiences during the course of last few months since this was first announced. So let's look a bit further and find out how this transforms your work life.
There are three main pillars to this concept
Office Graph & Oslo App- Office Graph is in the cloud, Oslo is the client UI that serves up the Office Graph.
Inline Social – bringing social into tasks and documents. Notion of conversation is not only for office documents, but also videos. Real time feedback available in right sidebar in conversations.
Groups – This sweet concept was picked up from Yammer and extended to Office 365. It breaks application silos, provides seamless integration between mail, SharePoint, and social.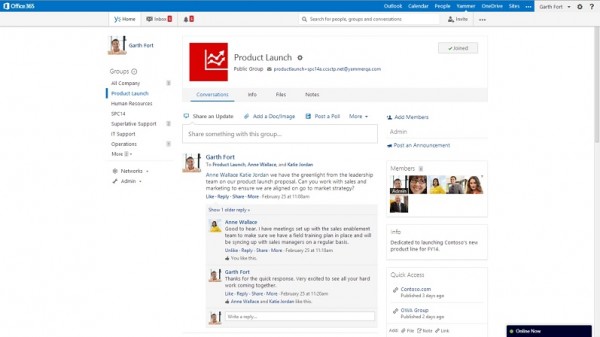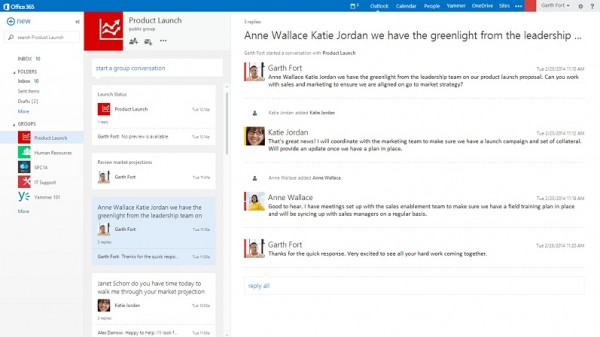 All of this is going to be exposed by an application called "Oslo". It will furnish the algorithmic results from office graph and provides a natural way for users to navigate, discover, and search people and information across an organization. Watch this cool video from Yammer
Now can you visualize how your work is going to be easier and more manageable? Whether you live in email or yammer you will be able to work more closely. If not then here's a preview:
Open outlook web access, it'll list groups on bottom left same as yammer groups. Go to a particular group, it'll shows light weight card like conversation, feed like conversation. When someone post a link it includes inline preview of the article. Another cool thing, it also includes inline native video player in Outlook. Idea is to keep users within the context of their conversation. No more search for relevant email in exchange distribution list for older conversations. All group conversation shows up all here, searchable and cataloged. Open a document, which opens using Office Online side by side with conversation. You can hover on the group calendar event and add it to your personal calendar, it syncs your calendar if something changes. Any member of the group can add/edit/delete meetings. You can subscribe to groups (go to colleagues groups). Groups have their own OneDrive for Business library for each group. When you edit a document in your group space it will auto save that version to the library.
Recently I had a chance to discuss Microsoft's social strategy and roadmap with Jared Spataro (General manager of Enterprise Social @Microsoft) in the yammer community along with other social experts and here are some takeaways from that session
 Focus is on three concepts 1. People 2. Groups & 3. Networks

People are treated as first class objects and social puts them back into work
Groups are core to putting people at work – together. When group of people working on a common purpose get hands on social communication tools, magic happens!
Networks of people can self-organize, re-allocate resources, and bubble up innovation. End of the day it's all about sharing resources

Groups created in one location (Exchange Online, Yammer or Active Directory) is automatically replicated to the other two, doesn't matter what the starting point is, groups are managed across all services. For e.g. create a group in Exchange Online and it will create a Yammer group and SharePoint team site.

Groups created in AD, Yammer, or Exchange Online will NOT have nesting (at least initially)
A yammer group uses SharePoint document library for storing files and OneDrive for business service for offline sync
This process group creates a full blown Exchange calendar
Creating a group anywhere in Exchange Online, SharePoint Online or Yammer will create the same one with the same members in the other two
Creating a SharePoint site will NOT create Yammer groups (Although Microsoft is working on a upgrade path)

Biggest problem with Yammer standalone was that it didn't capture enough signals. Some of the most important signals were left out (emails, documents, instant messages, etc.). Integration with Office 365 will be a tremendous change.
Microsoft fused search capabilities with predictive intelligence. The graph collects signals from your work (who you follow, what documents you author, what you're referring to in order to complete tasks, email, etc.) and then constructs a single graph of objects and relationships ("Joe viewed Contract DHN-125" and "Joe attended "Product Launch"). Then using those objects and relationships it starts suggesting things that might help you get your work done.
Office Graph acts only on information that you have access to. So for instance, if someone shares a document with you and it isn't publicly accessible, but you have access to it, it will still show up in your Oslo results. The "intake" component of the Graph is based on search, so it crawls information and access control lists and is intelligent enough to know who has access to what.
Office graph concept reaches beyond Office and Office 365. You'll be able to incorporate just about any information source, online or on-prem.
You will be able to push information and provide inputs to Oslo so that a company can target content.
The one use case Oslo and Office graph will address – organization of all the information swirling around an organization. It's impossible to keep up with what's happening in even a small group, let alone one of some size, so the graph (and the Oslo app) are designed to bring information to you and allow you to explore it. In many ways, MS think of Oslo as a "browser" for the graph.
The Office Graph will have both push and pull mechanisms so you can include things online, on-prem, on the MSFT stack, and on non-MSFT technologies
As stated in SPC 2014,  Oslo/Office Graph, Inline Conversations, and Unified Groups won't be released in one big bang. They'll be phased in throughout this year.
So here it is, #Worklikeanetwork for you!
Yammer works on a rapid release methodology so much so that they have a weekly update cycles. They follow the thumb rule, project team size 2-10, and duration of 2-10 weeks, it's agile in real sense.
It's not just about work-like-a-network on Yammer's roadmap but also many more UX and functional improvements coming your way. To stay on top of their release schedule bookmark the success center site