Inefficient manual processes. Lack of data integrity. Untrustworthy and cumbersome reporting. Complex mapping for chart of accounts between ERP applications. These are the greatest challenges regarding managing & aligning financial master data per Oracle's 2022 "Value of EPM" survey. The issues result not only in frustration across organizations, but also contributes towards significant financial loss. Organizations with an environment that is inefficient in adapting quickly and accurately due to the before-mentioned issues are at a real disadvantage when comparing to competitors which have evolved to prioritize managing financial master data.

Oracle EDM
Oracle's EDM (Enterprise Data Management) solution can directly address many of these challenges and more resulting from inefficient master data management practices. EDM empowers organizations with a best-in-breed solution encompassing data governance workflow, change visualization, data integrity validations, and pre-built integrations. Not to mention EDM's ability to seamlessly synchronize master data changes across unlimited numbers of applications. These capabilities all combine to allow faster and more efficient adaption to changes in master data by organizations. This is evident in the responses to the Value of EPM survey conducted by Oracle.
An astounding 78% agreed that "EDM

improved productivity and change management efficiency

" and 65% reported a "

reduction in time for business change management

"!
Almost 40% realized these benefits in 3 months or less; 65% realized benefits in 6 months or less
Customers who used EDM within their Chart of Account initiatives reported 30% reduction in time for the Chart of Accounts design
35% reported an accelerated deployment of cloud applications where EDM was included. 25% observed a reduction in data conversion cycles.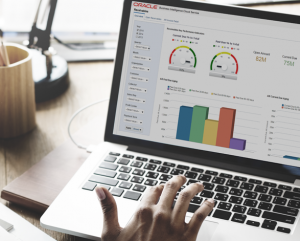 Explore key considerations, integrating the cloud with legacy applications and challenges of current cloud implementations.
The survey included over 500 finance professionals. The gains in efficiencies by utilizing EDM described above translate into actual savings:
15% reported a reduction in audit costs
39% observed a decrease in overall cost of data governance change management
Critical Component
EDM is a critical component in the Oracle cloud offerings. It's role in ERP, EPM and MDM initiatives cannot be understated. And these survey responses provide clarity on just how much customers who have embraced the solution are gaining in savings for both time and money.
If you are interested in learning more about EDM or have questions on the survey, leave a comment or contact us today!