Are you a part of the Human Resources team, which is tasked with reporting on Equal Employment Opportunity? Are you an Oracle Human Capital Management consultant tasked with configuring the environment setup of this report? The goal of this blog is twofold: demystify EEO reporting by defining the various reports, and outline EEO-1 reporting setups for Oracle HCM.
EEO Reports Overview
EEO reporting is a mandatory US Federal reporting requirement for every company with 100+ workers. There are multiple types of EEO reporting:
This is a mandatory annual data collection report on worker demographic data by race, ethnicity, sex, and job category. There are two different types of EEO-1 reports, called component 1 and component 2.
This is now often just referred to as the EEO-1 report because EEO-1 Component 2 is no longer being collected. It consists of demographic data: employees broken down by gender, race/ethnicity, and job category. This is the main EEO report.
This is a discontinued portion of the EEO-1 report which is no longer required to report on. This consisted of employees' W-2 income information broken down by gender, race/ethnicity, and job category.
This is a mandatory biennial data collection report for enterprises with local unions. The output includes demographic data and union membership.
This state and local report is a biennial EEO report that also includes salary bands.
This flavor of the EEO report is mandatory for all public elementary and secondary schools on a biennial basis.
EEO Reporting in Oracle HCM
Oracle HCM has out-of-the-box support for EEO-1 (AKA EEO-1 Component 1), EEO-1 Component 2, and EEO-4. Navigating to this page is as follows: My Client Groups > Payroll > Submit a flow > Select United States LDG > search for EEO.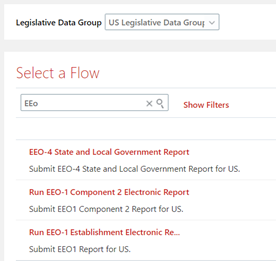 Navigating to the area to run the reports is one thing, but they probably will not return any data without specific attention and care; there are many setups and configurations required to enable the report to function. Below are two fantastic resources for setting up Oracle HCM to produce the EEO-1 report.
For a setup task list with screenshots of the configurations on each object, explore this Oracle Support whitepaper: Fusion US Payroll: How to Setup EEO-1 Report. This also applies to VETS-4212. (Doc ID 2224995.1)

Navigate to support.oracle.com and input the Doc ID
Reference the attachment on the doc "EEO1_setups_with_screen_shots_V3"
The document has screenshots and parameter information for the following setup tasks

Manage Legal Entity HCM Information
Manage Legal Reporting Unit HCM Information
Manage Legal Reporting Unit Registrations
Manage Locations
Manage Jobs
Person Management>Manage Person
Person Management>Manage Employment (Job and Assignment Category)
For more details and definitions of field values when configuring, reference the official Oracle Human Resources documentation: Summary of EEO-1 Establishment Electronic Report
All setup values should be recorded in excel workbooks to validate and organize as environment migrations happen
Hopefully, this blog has given a high-level understanding of EEO reports and how to manage them in Oracle HCM.