Adhitya Rajkumar, Technical Architect – Digital Solutions, co-authored with me to bring you a comprehensive Acquia DXP series. We'll cover everything from the basics to advanced topics, all from a technical point of view.
Technological innovation has reached unparalleled levels, and almost all businesses embrace digital transformations to obtain a competitive advantage. In today's ever-changing digital world, relevant, meaningful, and engaging digital experiences are critical. Whether B2B or B2C, tech-savvy customers do not make buying decisions like that. They conduct thorough research and then buy products that meet their specific expectations. When it comes to digital experience, a monolithic approach isn't cutting it. Businesses struggle to offer personalized experiences that grab customers' attention and foster buyer momentum to advance sales. 
A robust Digital Experience Platform can assist brands in overcoming the challenge of providing relevant experiences to their customers across all touchpoints and channels, resulting in more agile and frictionless business processes. As a result, marketing technologies are trying to solve various lego bricks of the omnichannel digital experience. Here are some exciting facts about DXPs that you can't ignore: 
According to Grand View Research, Inc., the Digital Experience Platform market will be worth $30.41 Billion By 2030

 

DXPs improve the accuracy of your marketing and customer engagement through holistic customer data and information

 

Digital experience platforms reduce organizational churn rates, thereby fuelling the market growth.

 

DXPs use integration and flexible architecture to stay on the cutting edge of digital trends

 
Let's get into more detail about how DXPs are profitable to the IT world. 
According to Gartner's Glossary: 
"A digital experience platform (DXP) is an integrated set of core technologies that support the composition, management, delivery and optimization of contextualized digital experiences." 
According to Forrester Glossary: 
"A digital experience platform provides the architectural foundation for flexible, agnostic core services to maximize scale, quality, and insights across channels and systems while delivering context-specific tooling for practitioners to build, manage, and optimize digital journeys on owned channels (web, mobile, messaging) and orchestrate third-party experiences (e.g., social, retail marketplaces)." 
The proliferation of innovative technologies and customers' increased digital experience expectations has created obstacles and possibilities for marketing and IT teams. Even more challenging is to support millions of buyers and touch points across multiple countries, websites, languages, and business units, all while staying flexible enough to adapt to changing customer needs and technological advances. This is the goal and mission of a digital experience platform (DXP). 
Oh! That's Acquia DXP 
Acquia's Open DXP integrates Acquia's platform for building, designing, and running digital experiences (Drupal Cloud) with an end-to-end, data-driven marketing platform for creating, personalizing, and improving customer journeys (Marketing Cloud). 
Drupal Cloud includes a new low-code marketing experience as well as new developer tools for creating, scaling, and securing websites and apps. Marketing Cloud's newly integrated Customer Data Platform (CDP) gives a 360-degree view of the customer through real-time data integration, machine learning-driven insights, and marketing assistance for providing personalized customer experiences on a global scale.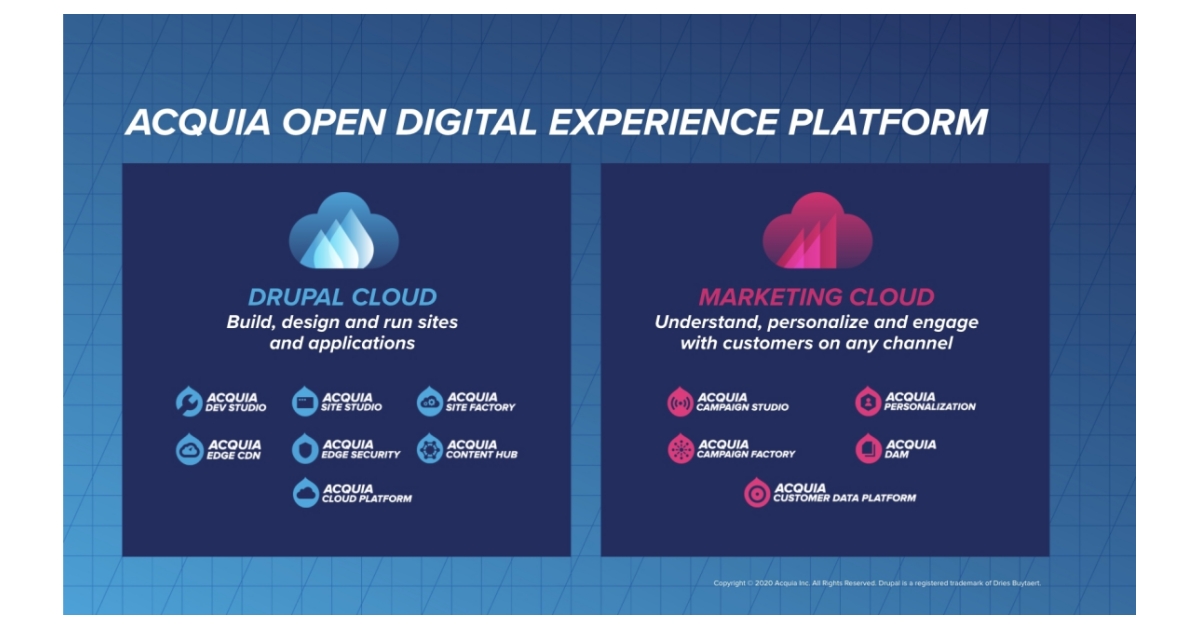 Source: Acquia 
Let's understand the terms in this Acquia DXP; then, in this blog series of Acquia DXP, I will share the exclusivity of each module that you can't find on the internet.  
Acquia Drupal Cloud offers new marketing and developer experiences and platform extensions for securing and scaling digital experiences. This Acquia Drupal Cloud enables unparalleled collaboration between marketing and information technology teams: 
Site Studio (formerly Cohesion): Site Studio, which is new for marketers, delivers a low-code experience for creating and designing websites for various devices and interaction types without the need for a developer. Site Studio is the only solution that provides marketers with fine-grained control over all areas of experience design, removing typical IT bottlenecks and delays for continual site enhancement and optimization. 
Developer Studio: Developer Studio delivers Cloud IDEs for building, staging, and deploying new Drupal sites and apps from anywhere globally using only a web browser. Acquia Cloud IDEs provide Drupal developers with a complete collection of tools and connectors. 
CMS Migrate: CMS Migrate now offers additional tools for accelerating migration to Drupal 9 from older Drupal versions and any legacy CMS. 
Site Factory: Site Factory, which has just been upgraded to accommodate Drupal 9, allows enterprises to centrally manage, deploy, and scale sites and apps to provide global governance across various brands, regions, and teams. 
Edge CDN: Edge CDN, a worldwide network of over 200 points of presence (PoPs), delivers trustworthy delivery of digital experiences by constantly improving availability and performance, as well as limiting the risk associated with increased volatility in traffic owing to increased online consumer involvement. 
Edge Security: Edge Security is a revolutionary security-as-a-service solution that uses data-driven insights to dynamically update and defend all sites and experiences against malicious assaults, maintaining brand confidence. 
Cloud Platform: Cloud System provides best-in-class infrastructure for trusted, cloud-native Drupal experiences, enabling developers to host and manage digital experiences at scale, and enhances support for any Drupal site or application's performance, availability, and security. 
Acquia Marketing Cloud now unifies all acquired and current technologies into a single, simple-to-use, open platform that can be deployed rapidly. Among the benefits are the following: 
Customer Data Platform: CDP provides a 360-degree view of each consumer by combining data from back-end and front-end systems. Marketers can obtain insights into new consumer categories based on observed behaviours and product affinity, use predictions to determine the propensity to engage and convert, and send the next-best offers and activities using open, customized machine learning models. 
Personalization (formerly Acquia Lift): Personalization uses CDP data to fuel tailored marketing that gives the next-best offer across all customer journey touchpoints. 
Campaign Studio (formerly Mautic): Campaign Studio leverages CDP data to break through conventional channel silos across the enterprise in order to execute next-best activities across the customer journey. Marketers can simply engage their consumers across all digital assets, including email and other channels. 
Campaign Factory (formerly Maestro): Acquia Campaign Factory assists the CMO in scaling global campaign management across brands, geographies, and local marketing teams. Campaign Factory is in charge of global digital marketing operations. 
To Be Continued!
Overall, the industry is evolving, which is excellent. Every use case has a solid solution. Whether you go best of breed or all in on a platform suite is ultimately a business decision. The important message here is that, like most new, flashy CX technologies, a DXP, although serving as a focal point for customer experience execution, cannot be considered a single platform capable of meeting all business demands. Even with the greatest DXPs, integrations will be required to develop content at scale while providing your customers with a continuous, personalized, and optimized experience.
Notes

 
https://www.businesswire.com/news/home/20200714005092/en/Acquia-Launches-New-Open-Digital-Experience-Platform