Award-Winning Program Advances STEM Education and Career Opportunities to Underserved Communities and Constituencies
Perficient is a company of more than 6,500 diverse and immensely capable colleagues, and we understand the importance of supporting the professional development of our global community.
One of the ways we're pursuing inclusion and equity in our company and communities is through Perficient Bright Paths. Created in late 2020, our Bright Paths Program is advancing STEM education and career opportunities while helping to close the employment gaps that exist in the tech industry, especially among women and minorities.
To date, 67 Bright Paths students have joined Perficient in the software engineering and development field. Today, we're proud to announce that the Bright Paths Program is expanding with new cohorts in Detroit and Minneapolis, focusing on advancing diversity in technology.
Those interested in applying for the Perficient Bright Paths Program can learn more and find applications here.
READ MORE: Congratulations to the Recent Perficient Bright Paths Graduates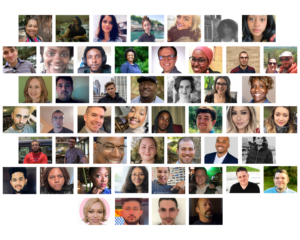 You can learn the skills to become a software engineer for free!
Perficient has developed the custom bootcamp in partnership with Strayer University's Hackbright Academy, a coding bootcamp and software engineering program designed for women, and DevMountain, a design and coding bootcamp specifically designed to equip minority students from underrepresented communities with the skills to start their journey toward a career in technology. Perficient proudly funds the Bright Paths Program to provide education and career opportunities to ambitious and deserving individuals who otherwise might be unable to pursue them.
Through our partnership, we've developed a 16-week custom bootcamp designed to prepare students for the workforce and study in-demand programs like Java, Python, QA, and Data. During the first eight weeks of the program, students will complete coursework focusing on the foundational concepts of coding. Students will then be able to choose a specialty focus track and develop their own application during the second eight weeks of the program. Additionally, students can expect to meet various leaders from across Perficient who will give them an inside look at the consulting business. Students will also be paired with Perficient mentors who will help guide them through the program.
By the end of the 16-week program, Perficient's goal is to extend qualified graduates a job in the software engineering and development field, where the new colleagues will have opportunities to partner with the world's largest enterprises and biggest brands.
READ MORE: See other Bright Paths articles here
Ready to grow your career?
We're thrilled to bring the Bright Paths Program to Detroit and Minneapolis, and we can't wait to see each cohort's curiosity, innovation, and professional development unfold. Anyone interested in pursuing a career in technology is encouraged to apply for the Bright Paths Program.
At Perficient, we continually look for ways to champion and challenge our talented workforce with interesting projects for high-profile clients, encourage personal and professional growth through training and mentoring, and celebrate our people-oriented culture and the innovative ways they serve Perficient and the community.
Learn more about what it's like to work at Perficient at our Careers page. See open jobs or join our talent community for career tips, job openings, company updates, and more! Go inside Life at Perficient and connect with us on LinkedIn, YouTube, Twitter, and Instagram.