Consider this eye-opener: TechCrunch reports that the U.S. Healthcare system loses approximately $140 billion each year due to inefficient management of basic internal operations.
As the world becomes more digitized, automation is increasingly important to healthcare enterprises looking to keep pace with consumer expectations and competition. Companies of all sizes and across industries are leveraging automation to improve organizational efficiencies and optimize time-consuming processes.
You've likely found that the pressure to drive digital transformation, streamline processes, and improve team effectiveness has reached new heights.
How Automation Can Enhance Efficiency and Value in Healthcare
Today, about 75% of global data and analytics decision makers say their firms are investing in automation at some level, while more than half report that their firms use artificial intelligence (AI) or plan to soon.
Within healthcare specifically, automation plays a significant role in promoting efficiencies while increasing ROI. For instance, it can:
Quicken the revenue cycle,
Reduce claims denials,
Optimize supply chain planning and execution, and
Improve consumer interactions with your contact center.
The Elements of Automation
It is common for enterprises to approach automation through a technology lens like robotic process automation (RPA) and then report they are "fully automated." These organizations sought a specific solution and, in most cases, are stretching the technology beyond its intended purpose.
Intelligent automation is not accomplished by a single technology working independently, but rather through a combination of insights and technologies acting in concert. While partial automation can be achieved through traditional digital process automation (DPA) platforms or process orchestration, intelligent automation occurs at the intersection of process mining, DPA, RPA, and AI. Without all components, processes will not be fully optimized or achieve maximum automation efficiencies.
Our new guide, The Healthcare Executive's Guide to Intelligent Automation explores each of these technologies along with the following topics:
How automation drives efficiency and value in healthcare
Key automation trends and drivers of adoption
Core elements of a successful automation strategy
Best practices and steps to get started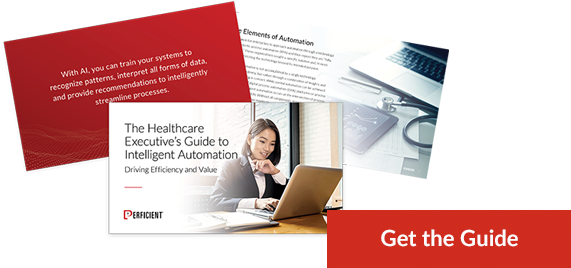 Why Perficient
We blend healthcare and automation expertise to help you build stronger teams and establish optimal processes. Our experts will help you identify how work is performed today and how you can optimize for tomorrow.
We work with partners that address the key elements of intelligent automation with their best-in-class product offerings. Your needs are unique, and we can help you determine the product or system for your particular use case. We also provide readiness evaluations, business case development, implementation and migration services, and rapid development and pilots.
We are recognized by Modern Healthcare as a key healthcare consulting leader. Additionally, Perficient was cited as a "Contender" in The Forrester Wave™: Digital Process Automation Service Providers, Q3 2020 report.