In 2020, the Centers for Medicare & Medicaid Services and the Office of the National Coordinator for Health Information Technology released the
CMS Final Rule
, which puts patients first by giving them access to their health information when they need it, in a way they can best use it.
Payers that deal with federal healthcare plans have to do the following:
Patient Access API: Provide a FHIR-based API that lets patients access claims and information via third-party applications
Provider Directory API: Make Provider Directory information available via a publicly available FHIR-based API
Payer to Payer transfer: Allow members or patients to request that their records are transferred to another payer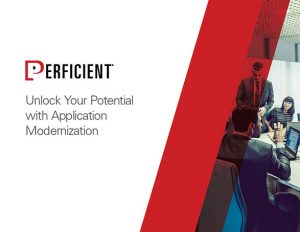 Application modernization is a growing area of focus for enterprises. If you're considering this path to cloud adoption, this guide explores considerations for the best approach – cloud native or legacy migration – and more.
On May 6, join Perficient and Red Hat as they discuss the latest trends in healthcare, including the CMS Final Rule.
Our Red Hat experts employ a combination of strategic and tactical activities to quickly get you on the right path to digital healthcare transformation through solution architecture and app modernization. In this webinar, you will learn:
How to map your interoperability roadmap for success leveraging OpenShift
How Perficient and Red Hat helped a leading senior healthcare provider develop a plan and implement a modern platform that supports integration and meet interoperability needs
Although this is a healthcare-focused webinar, those outside of healthcare are also welcome to attend.