The Consultant Development Bootcamp series was written with joy by Grayson Harden, Mary Claire Freese, & Rebekah Williamson.
New Colleagues Reflect on their First Weeks at Perficient
Perficient is thrilled to welcome its Summer Boot Camp Class of 2020!
Though COVID-19 has moved the program online, the fourteen interns and new hires in the Atlanta-based Sitecore Business Unit are still taking advantage of this opportunity and trying to get the most out of the ten-week, intensive training Corporate Onboarding Boot Camp. Typically, members of our Campus Program attend this training live in St. Louis, however no one was going to let a pandemic ruin the opportunity to bond and learn together!
Below is a list of questions that our Boot Camp team was asked to showcase their experience in the program thus far.
What made you want to intern/work at Perficient? How did you hear about us?
"I was really drawn to the people and the culture. Talking to them made me realize how much Perficient cares about their employees succeeding and growing both professionally and personally."
– Bela Colmenares, Associate Technical Consultant
"I knew I wanted to work in consulting and was looking for a company where I could stay and grow. From my initial introduction to the Perficient folks, I knew it was the right fit."
– Mary Claire Freese, Associate Business Consultant
What was the recruiting/interviewing process like?
"I enjoyed my experiences throughout the interview process ⁠— the interviewers were kind and helped me feel more confident in myself. I knew they were people I wanted to work for and with."
-Kallie Cothran, Associate Technical Consultant
"I loved how the entire process was more of a conversation where they genuinely wanted to know more about me."
-David Hwang, Associate Technical Consultant
"After accepting my offer, I appreciated that Perficient kept in contact and held social events for us to meet the team before our start date."
– Rebekah Williamson, Intern Business Consultant
What has the Boot Camp experience been like while working remotely?
"The interns, despite not ever meeting in person, have all been interacting outside of work and have become friends. The weekly happy hours make it fun and I feel like I really am a part of the office. Our supervisor does a great job of balancing individual work and group meetings so I manage to stay on track."
-Kam Ndirangu, Intern Technical Consultant
"Of course if it were up to all of us, we would be working in-person in the office, but daily Microsoft Teams calls are sufficient and have allowed the interns to work together on tasks like we would if we were in person. I always have something to work on and whenever I am stuck or in need of assistance, my peers or supervisors are quick to help!"
-Grayson Harden, Intern Business Consultant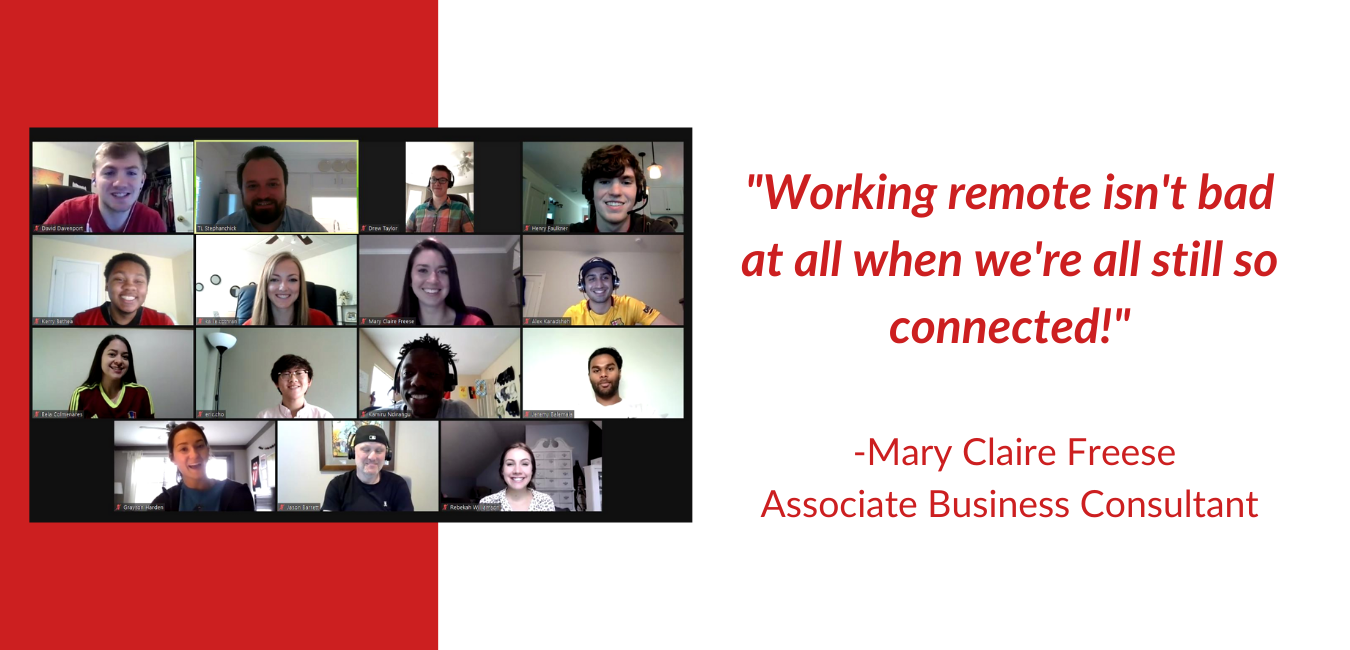 How does hands-on learning in the Boot Camp compare to classroom learning in college?
"What I like about the Boot Camp learning is the encouragement to take it in at your own pace. We are free to move quicker over information we may know or understand quicker and take time to delve into things we don't."
-Kerry Bethea, Associate Technical Consultant
"With the Boot Camp, you get what you put in. There is so much learning potential through coding and client-facing work, but it's up to you how much time you dedicate."
-Kam Ndirangu, Intern Technical Consultant
With only five weeks left in the Boot Camp, the interns are looking forward to many more professional opportunities. Says Kallie, "I hope to get more confidence in myself, more goals set for my future, and more personal growth."
From mentorship opportunities, an online learning platform to develop new skills, and a culture full of friendly faces ready to help, we foster talent at every stage of their career. If you are interested in a career with Perficient, please apply here.
---
At Perficient, we continually look for ways to champion and challenge our talented workforce with interesting projects for high-profile clients, encourage personal and professional growth through training and mentoring, and celebrate our people-oriented culture and the innovative ways they serve Perficient and the community.
Learn more about what it's like to work at Perficient at our Careers page.
Go inside Life at Perficient and connect with us on LinkedIn, YouTube, Twitter, and Instagram.