Today, Mon Sept 16, was day 1 of Oracle OpenWorld. It was a busy day filled with a full set of sessions across all of Oracle's technology pillars. Outlined are 5 key updates from day 1:
Oracle has made significant investments in its Gen 2 Cloud infrastructure.  Larry Ellison gave his keynote speech today on Oracle's Gen 2 cloud infrastructure. Key points below:
Announced autonomous Oracle Linux
Significant increase in data centers by end of 2020.  Oracle is projected to have 36 Oracle regions by end of 2020 vs 25 AWS regions
Expanding multi cloud innovation agreement with Microsoft
New Exadata machine with persistent memory built in (yes that means an entire database can reside permanently in memory – which means extremely low latency for data access)
New 'always free' level for Oracle Gen 2 Cloud.  Anyone can use a certain amount of Oracle Cloud resources for free indefinitely.
Andy Mendelsohn of the Database group debunked the following myths about the Oracle database:
Myth: "Oracle is a relational database, so it cannot manage and analyze unstructured data"

Truth: The Oracle database is a multi-model database and can manage and analyze unstructured data like JSON, Parquet, etc.

Myth: "Oracle is a poor fit for modern paradigms like microservices and clouds"

Truth: Oracle's pluggable database architecture (PDB) is a perfect fit for microservices architectures.

Myth: "Exadata is a lock-in product"

Truth: Oracle database supports the same developer API's everywhere – on-premises, on Exadata and in the cloud.
Oracle Analytics Server (OAS), which is the on-premises version of Oracle Analytics Cloud (OAC) is scheduled for release in December 2019.  All OBIEE customers are automatically licensed for OAS – there is no new contract to sign or product to buy.  OAS will have the same advanced functionality as OAC.
The next version of Oracle Analytics Cloud will have a single, unified home screen where the user can access all objects in OAC including Answers reports, Answers dashboards, Data Viz visualizations, Data Sets, Data Flows, etc.
In approximately the next year the metadata repository (ie the RPD) for OAC will be converted into a JSON-based, Cloud native application.  The new RPD development platform will be integrated with GIT for source and version control.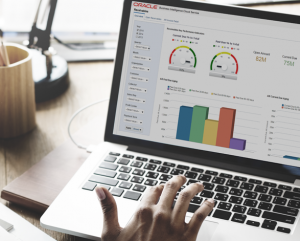 Explore key considerations, integrating the cloud with legacy applications and challenges of current cloud implementations.
Data and analytics are a key theme at this year's Oracle OpenWorld.  Oracle is taking a lot of steps to ensure that customers can leverage their full data footprint for better business decisions.