Another successful Informatica World 2018 concluded in Las Vegas last week. The conference provided many insights into how Informatica is playing a role in intelligent disruption with over 1,200 sessions and 112 customer and partner speakers. Below are my four takeaways from the conference this year.
1. Data 3.0
I remember discussing Data 3.0 last year after Informatica World 2017 as a concept, but Informatica has really delivered. At the conference, we were able to see the progress made in the Data 3.0 era and also how their customers have benefited. This era of generational market disruption is all about accelerating digital transformation. In order to intelligently disrupt your industry you need to capitalize on the following:
Explosion in data volume
New data types
Data in the Cloud
2. Data Governance
Informatica released a new logo in 2017 that resembled a phoenix to symbolize data democracy. They have focused on exactly that at Informatica World this year. Data governance with Enterprise Data Catalog, Big Data Management, and the Intelligent Cloud Services has helped Informatica become a leader in Gartner's Magic Quadrants.
Data Governance has also been a focus with mandates such as General Data Protection Regulation (GDPR). GDPR has forced organizations to go through Data Governance themes such as MDM, data security, data quality, and data catalogs. These themes were merely add-ons through 2017, but they are now mainstream implementation.
3. Strong Data Ecosphere
Another message that was delivered to all the partners and customers during the conference was the power of ecosystem partners such as Tableau, Microsoft, AWS, Salesforce, and other OEM partners. These partners bring strong integration and intelligence capabilities to the data ecosphere including big data, Azure, AWS S3, Salesforce Cloud, Tableau reporting, and traditional database systems.
4. Intelligent Data Platform
A lot of clients are adopting the Intelligent Data Platform (IDP) powered by CLAIRE™. CLAIRE™ is Informatica's AI engine and it puts the "intelligence" in IDP. This platform has done a phenomenal job with real time, streaming and traditional batch approach. It's a unified platform which is microservice-based and modular going into building your architecture. You can start with any single tool and grow at your own pace.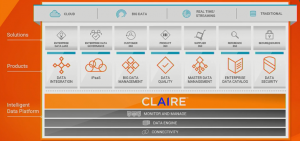 Those are my big takeaways from the conference. What are yours? Let me know in the comments below.
And while you're here, check out Perficient's Informatica success story with LinkedIn or reach out to one of our solution consultants to find out how Informatica can benefit you.