If YouTube is the red pill and other video platforms are the blue pill, Google usually chooses the red pill. But just how much of the Google Matrix is dominated by YouTube?
In this episode of our popular Here's Why digital marketing video series, Perficient Digital's Eric Enge reveals the findings of his study on how often YouTube videos dominate Google Search result and provides some insight into why they do.
Don't miss a single episode of Here's Why. Click the subscribe button below to be notified via email each time a new video is published. Over a half million views on YouTube!
Resources
Transcript
Mark: Eric, recently you conducted a study to find out just how dominant YouTube videos are in Google Search. What did you discover? 
Eric: Well, anyone who does searches on Google that show video results has probably noticed that they're far more likely to see YouTube videos than videos from any other source. My study confirmed that videos hosted on YouTube are the most likely videos to appear in the top 10 results and that you rarely will find a YouTube video ranking lower than the top 30 results.
We looked at over 6,000 queries that we thought were really quite likely to produce video results, and as you can see in this chart, 88% of the videos on the first page of Google were from YouTube, and YouTube took up more than half the video results for position 30 or higher.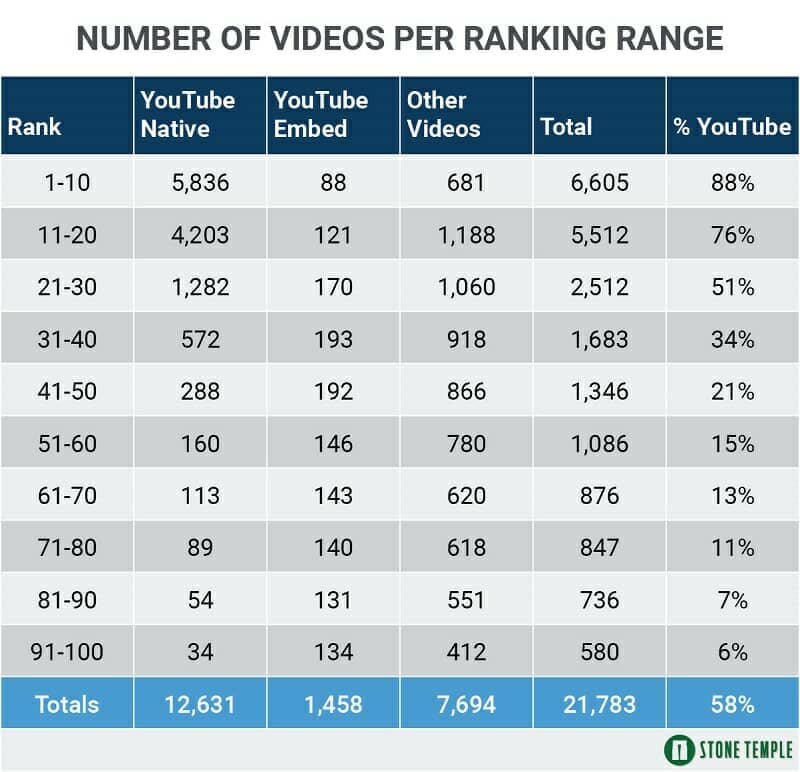 And when the query is explicitly seeking video content, such as queries containing the words "videos" or "clips," YouTube jumps to over 91% of the first page results. 

Why do some Google searches have more video results?
Mark: Well, clearly, YouTube dominates video-related searches, but we don't see that many videos in all search queries for sure. 
Eric: No, not at all. Why we see videos in some queries and not in others goes back to Google's switch over to Universal Search in May of 2007. 
Mark: Explain what Universal Search is. 
Eric: Before 2007, Google segmented its search results into different portals for each type of search. So you'd have one for videos, one for news, one for images, and one for web results. But with Universal Search, Google enabled those verticals to be blended into one results page, which is the main Google results page that we see today.
So when a query seems to be about a current news item, more news results are included in those regular results. If videos might be helpful for the searcher, then those video results are included. 

At the PubCon conference in Las Vegas, I had an onstage keynote conversation with Google's Gary Illyes, and I asked him about how Google decides when videos should appear in a regular search result and also how many videos and where they should appear in the mix with those other results.
Gary explained that when Google gets a query that might qualify for universal results, a sort of bidding process takes place between various search features, such as videos, news, images, and newer features, like featured snippet boxes. Each feature gets assessed according to the intent of the query, and the winners get slots on the results page weighted by how useful they are likely to be to the user. 
Does Google give YouTube an unfair boost?
Mark: That's fascinating. But let's get back to the dominance of YouTube and those results that show videos. Isn't that unfair considering that Google owns YouTube. Aren't they just pushing their own property? 
Eric: According to Gary, Google Search actually treats YouTube like any other site on the web. YouTube earns its dominance in the search results because of the tremendous authority that it's built up over the years. In fact, YouTube was becoming the dominant video hosting site before it belonged to Google, which is one reason why Google acquired it when they realized how important videos are going to become to web users. 
Mark: Great insights, Eric.  
Eric: Don't forget to check out our Next10x Conference coming up in May of 2018. It will be one amazing day where you'll get the insights of Rand Fishkin, Ann Handley, Larry Kim, and many more on the radical shifts happening in digital marketing today. You need to be prepared, and Next10x will leapfrog you over the competition. 

Don't miss a single episode of Here's Why. Click the subscribe button below to be notified via email each time a new video is published.
See all of our Here's Why Videos | Subscribe to our YouTube Channel