Perficient is proud to be a sponsor at Collaborate 18, which is being held April 22-26 at Mandalay Bay in Las Vegas. If you have never attended this event before, what are you waiting for?  It's a great opportunity for the Oracle user community to come together to share and learn through 1200+ education sessions, panels and networking events. We are honored to have been invited to present on seven unique topics across multiple tracks at Collaborate and hope you can attend one or all of them!
Visit us at booth #1325 to meet with subject matter experts and thought leaders and learn how we've leveraged our extensive expertise in ERP, EPM, Customer Experience and Business Intelligence to drive digital transformation for our customers.  Request a meeting with us to discuss your journey to the cloud or thoughts on how to optimize your on-premises environment.  We're all ears!
Perficient, an Oracle Platinum Partner serving clients for more than 15 years, provides its clients digital experience, business optimization and industry solutions and support. We're committed to partnering with our clients to tackle complex business challenges and accelerate transformative growth. Perficient's Oracle consultants are certified to deliver the official Oracle course curriculum to customers via onsite training classes. Perficient owns and operates an Oracle Approved Education Center in partnership with Oracle University.
Perficient Speaking Sessions:
Sunday, April 22 | 1:45 – 2:45 PM
The 11 Best New Features of Enterprise Performance Reporting Cloud Service
JASMINE D | Don Ford, Director, Oracle EPM Practice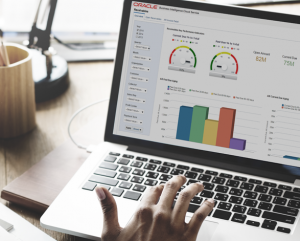 Explore key considerations, integrating the cloud with legacy applications and challenges of current cloud implementations.
Sunday, April 22 | 3:00 – 4:00 PM
From OBIEE or OBIA to Cloud: The Fundamentals
BANYAN E | Mazen Manasseh, Senior Solutions Architect, Business Intelligence
Monday, April 23 | 9:45 – 10:45 AM
Account Reconciliation Cloud Service – Improve Accuracy and Save Time with this Cloud Application
JASMINE C | Matt Hopkins, Senior Manager, Oracle EPM Practice
Monday, April 23 | 11:00 – 12:00 PM
A Client Success Story: UT Health Science Center at Tyler Migrates to EPBCS
SOUTH SEAS B | Don Ford, Director, Oracle EPM Practice
Tuesday, April 24 | 9:45 – 10:45 AM
Advanced Global Intercompany System (AGIS) – Simply Balance!
SOUTH SEAS H | Matt Makowsky, Director, Oracle ERP Cloud
Wednesday, April 25 | 11 – 12:00 PM
Introduction to Analytics in Oracle Internet of Things (IoT) Cloud Service
BANYAN D | Raghu Syama, Sr. Technical Architect, Business Intelligence
Thursday, April 26 | 8:30 – 9:30 AM
Projects and Capitalized Assets – Better Together
BREAKERS K | Wallace Bartlett, Sr. Solutions Architect, Oracle ERP Cloud
If you are unable to attend, but would like to get a copy of any one of the session slides, please leave a comment, and we'll ensure you get the slides after the show. See you in Las Vegas in a few short weeks!