A recent Perficient webinar, Oracle FCCS: A Deep Dive, held a captive audience for the Q&A session well beyond the top of the hour. In the second of a two-part blog post, I share the highlights of questions asked by attendees and answered by both Tony Coffman, Oracle EPM Practice Director at Perficient, and Rajesh Bhatia, VP of Product Development at Oracle.
Missed Part 1? Read it here.
There is a rate for Euro to U.S. dollars that exists. There's a rate from GBP to USD that exists. Can FCCS translate to Euro from GBP without a direct rate?
Tony – Yes, absolutely. Just like in HFM, it will triangulate the rate without having a direct rate. In fact, it goes beyond that, that all reporting currencies are translated at the same time and available to pull into reports.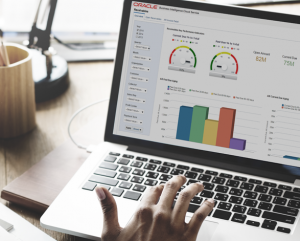 Explore key considerations, integrating the cloud with legacy applications and challenges of current cloud implementations.
Do other dimensions such as customs impact consolidation time?
Rajesh – Yes, today they do because underlying it, if you know the Essbase technology, there's a single cube today. We're introducing this concept of hybrid. Those will not impact, then the performance of the consolidation, because those will be dynamically calculated.
Will users have the ability to build their own personal reports, or will you need developers to build reports for you in FCCS?
Tony – In the presentation, we showed financial reporting web studio. That is how you develop new print quality reports, very similar to the financial report client today for HFM. From our perspective, with a minimum amount of training, business users can use this tool to create their own reports. They do not need developers. There's no coding involved. It's literally drag and drop and highlight, format, create some formulas. Very much in the purview of business users to be able to develop their own reports. Now, the system does come with some dashboards and reports built in, but nothing preventing you from creating more.
Rajesh – And Tony, if I could just add to that point. One of the differences between, and I own the development of HFM as well, one of the differences that we have on our on-premises solutions is, though we have the same reporting solution even on our on-premises and on the cloud, it varies how you design a form, how you design a dashboard, etc. It's different between planning and HFM on premises. One of our design principles when going to the cloud is to get consistency across that. Not only the reporting solutions are the same, like the financial reports, Smart View, etc. On the cloud, the way you design a form in PBCS, then tax in FCCS, etc. are exactly the same. The way you administer your PBCS, FCCS, TRCS, etc., exactly the same. It's really built on the same EPM cloud foundation infrastructure.
Is there any kind of migration utility available to move HFM to FCCS?
Tony – Today, no. I think there's been a difference of opinion on this. First, it was, we don't need a migration utility, and I think Oracle has come around to seeing some of the value in it. It's, again, farther out than the current R&D that's planned for September. From an implementation partner perspective, it's a tough thing to do. There's a lot of nuance to creating a migration utility for a product as different as HFM and FCCS. I'm not saying that Rajesh and his team can't pull it off. They've got some pretty bright people on the task, I'm sure. Maybe consider the results of a migration utility very similar to how it was for enterprise to HFM. Yes, it could create some HFM dimensions and an HFM rule file and so on, but you would never probably stop there and consider that best practice. It's good for prototyping, but we'll see.
Rajesh – Tony, I agree with what you said. It's a tough problem and as Tony mentioned we had the same issue when we went from Enterprise to HFM. We created a migration utility for Enterprise to HFM. I think it was for Enterprise 6.5, a wizard/ migration utility. You know how many people used it? Very low number of people. The thing is, it's an opportunity to redesign, to really see what I have in Enterprise, does that really make sense in HFM? And the same thing I would urge for you, I've looked at many HFM applications and there's a lot of stuff that's built in over the years. In FCCS we've done a lot of out of box. You may not want to take the same kind of rules or same kind of data that you have in HFM into a new implementation. It's a consideration that you may want to rethink how you design that application. Having said that, we will still make some tools available to at least do maybe the metadata migration, but a rules one would be much more difficult because a lot of rules are built out of box in FCCS and you don't need to customize FCCS, you really just need to configure it to meet your consolidation requirements.
Safe Harbor Disclaimer: Statements in this blog post relating to Oracle's future plans, expectations, beliefs, intentions, and prospects, including statements regarding expectations of future release functionality, are "forward-looking statements" and are subject to material risks and uncertainties. Many factors could affect Oracle's current expectations and actual results, and could cause actual results to differ materially. A discussion of such factors and other risks that affect Oracle's business is contained in Oracle's Securities and Exchange Commission (SEC) filings, including Oracle's most recent reports on Form 10-K and Form 10-Q under the heading "Risk Factors." These filings are available on the SEC's website or on Oracle's website at http://www.oracle.com/investor. All information in this blog post is current as of July 26, 2017, and Oracle undertakes no duty to update any statement in light of new information or future events.